Everyone loves a sandy sojourn, but many of the top beach holiday destinations in Oz can be cost prohibitive in peak season — especially if you're travelling with a family.
In the current economic climate, getting the most from your travel dollar has never been more important. So, here we reveal ten of Australia's most affordable beach holidays. Start packing!
1. Townsville (QLD)
Queensland's heavy holiday hitters like Port Douglas, the Whitsundays, and the Sunshine Coast and Gold Coast tend to get most of the attention from travellers, but the North Queensland city of Townsville has a huge amount to offer — and at far less than you'll pay to visit its high-profile cousins in high season. Townsville is a great destination for families or couples. Stroll along the gorgeous Strand (with its tranquil beachfront and free family waterpark), or mosey on over to Magnetic Island. Beckoning dreamily from across Cleveland Bay, it offers oodles of things to see and do. Hike, horse ride, swim, snorkel, and the list goes on.
2. Bundaberg/Bargara (QLD)
The Sunshine State has long been the country's go-to for summer fun, and while Bundaberg in the Wide Bay-Burnett region isn't strictly known as a beach destination (which will work in your favour in terms of accommodation prices), the coast is within ridiculously easy reach. The drive from the CBD through emerald sugarcane country to the seaside hamlet of Bargara is just 15 minutes each way, and you can spend your days relaxing on the glorious oceanfront and gazing out at the endless expanse of the Pacific Ocean.
By the way, you won't be the only ones frequenting the region's beaches at this time of the year. Marine turtles nest on Mon Repos Beach from November to January, and hatchings occur through to March. Visit the Mon Repos Turtle Centre and book a tour onto the beach at night with a ranger to witness this miracle of nature.
3. Coffs Harbour (NSW)
Coffs Harbour on New South Wales' northern coast is the Goldilocks of Australian beach destinations: not too hot, not too cold, but just right. This region enjoys some of the best weather in the country, and despite that fact, Coffs remains a great value getaway (as a quick search of hotel prices in January reveals). There are three good beaches within close proximity to the CBD (Jetty Beach, Boambee Beach, and the ever-popular Park Beach), and plenty of less populated options further afield. Diggers Beach to the north is a magnet for surfers and you can combine a visit here with a stop at the big daddy of Australia's oversized things — the legendary Big Banana.
Fresh seafood is a staple on Coffs Harbour menus, so drop by the Fishermen's Co-Op at least once during your stay. It's owned by local fishermen and if you get there early enough, you'll see the trawlers unloading their catch. The takeaway service is open from mid-morning.
4. Ballina (NSW)
Further north in New South Wales, Ballina is generally regarded as the gateway to super-fashionable Byron Bay (located 40-minutes' drive north of town), but savvy holidaymakers can save big dollars in summer by simply staying put once they get off the plane! Ballina offers access to 32 kilometres of magnificent coastline, amazing weather, farm-fresh produce, and great seafood (check out the Big Prawn!), and you can do a day trip to Byron — all without paying a premium for the 'Byron factor'. Top beaches to enjoy around Ballina include Lennox Point, Lighthouse Beach, and South Ballina Beach. Swim, surf, fish, and cycle the waterfront. Certain beaches even allow 4WD vehicle access.
5. Portland (VIC)
Tucked away in the far south-west corner of Victoria (just a short drive from the South Australian border), Portland is as historic as it is remote! Passing traffic is a rarity here, and a solid supply of holiday accommodation keeps things very competitive in peak periods. Portland is one of the oldest settlements on the Australian mainland and is awash with period bluestone buildings dating back to the 19th century. Heritage highlights include the Cape Nelson Lighthouse (circa 1884) and the iconic Portland Cable Tram, which trundles along an eight-kilometre foreshore track and connects several of the town's key tourist sites.
6. Geelong (VIC)
When you're thinking Victorian seaside destinations, Geelong may not immediately spring to mind — but it should! A sublime position on Corio Bay in Port Phillip, a beautifully maintained waterfront precinct, and a rapidly regenerating CBD mean there's a whole lot to love about a summer holiday here — and the price in summer will definitely be right! Spend time following the quirky bollard trail, enjoy a splash in the sea baths at Eastern Beach, or just relax on the sand at Point Lonsdale, Barwon Heads or Thirteenth Beach. Do a day trip to Melbourne or explore the Bellarine Peninsula's wonderful food and wine scene. The possibilities here are endless!
7. George Town (TAS)
Sitting pretty at the top of the Tamar River, an hour-or-so's drive from both the regional hubs of Launceston and Devonport, George Town is possibly one of Tasmania's best kept travel secrets. Even in mid-January, accommodation here is very competitively priced and savvy holidaymakers soak up the sublime river and coastal vistas, hemmed by lush green pastureland and rolling vineyards. George Town is recognised as the third oldest European settlement in the country, and as such, it has a rich history to explore. Learn about the region's maritime heritage at both the Bass and Flinders Centre and Low Head Pilot Station Maritime Museum. The pilot station has been guiding vessels from Bass Strait into the river since the early 1800s (and continues to do so to this very day).
8. Albany (WA)
Pristine white sand and turquoise blue water generally come with a hefty holiday price tag, but not in Albany on Western Australia's southern coast. OK, it takes a bit of effort to get to this destination, but once you're there, wow! You'll have access to some seriously exquisite beaches and mind-blowing coastal scenery — and at a very reasonable nightly rate. Middleton Beach is Albany's most popular swimming and surf beach (and offers great views out to King George Sound), but there are plenty of others within easy reach. You will need a car, so hiring one in Perth and cruising down to Albany by road is a good value way to go.
9. Geraldton (WA)
Like Albany, getting to Geraldton on WA's mid-western coastline takes fancy logistical footwork, but it's well worth the effort — and is the only one of our budget beach break destinations that comes with a free side of ocean sunsets (which, of course, you can only get if you holiday in the West!). And the beaches are a ripper to boot! Think turquoise water, creamy-coloured sand, and a Foreshore precinct packed with amenities (including playgrounds, a water park, paved bike paths, and a generous supply of public BBQs and picnic tables). North of the town centre at Beresford Foreshore, check out what's fondly known locally as 'The Big Marble'. This mind-bending glass sculpture filled with water was created by Sydney artist Lucy Humphrey and turns everything upside down. It will make a fun addition to your Insta feed.
10. Hervey Bay (QLD)
We wrap up this list in Queensland's Hervey Bay, which is globally renowned for two things: whale watching and Fraser Island — the largest sand island in the world. Visitors flock here during whale season (July to November), which drives accommodation prices up. Once the whales move on, prices drop just in time for summer and this laid-back coastal centre makes a great, reasonably priced family holiday option. Hit the string of local beaches and fabulous Wetside Water Park, which is open daily throughout summer. A day cruise out to Fraser is the most cost-effective way to experience its undeniable beauty.
Stay protected in the sun with these holiday essentials
One thing you'll want to splash out on for your holiday is good quality sun protection, starting with sunglasses that shield your eyes from harmful UV rays. Oakley is a leading sun protective eyewear brand and pairs the latest lens technology with stylish lightweight frames. Their polarised lenses add another layer of protection for your eyes by reducing UV glare.
In addition to sunglasses, ensure you pack a good quality sunscreen. Read up on the Therapeutic Goods Administration's (TGA) sunscreen regulations, which require products sold in Australia to comply with the national Sunscreen Standard. This dictates that an SPF (sun protection factor) rated product should be water-resistant and effective on the broad spectrum — meaning it protects the wearer against a range of UV rays.
You can further protect your skin at the beach by wearing UV-protective garments. Solabari's range of sun safe clothing is designed to assist in preventing melanoma and other skin cancers.
Do you have any suggestions to add to our list of Australia's most affordable beach holidays? We would love to hear from you. Please leave a comment below.
Additional images: Envato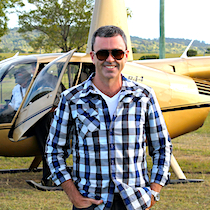 About the writer
Adam Ford is editor of Top Oz Tours and Travel Ideas, and a travel TV presenter, writer, blogger, and photographer. He has travelled extensively through Europe, Asia, North America, Africa, and the Middle East. Adam worked as a travel consultant for a number of years with Flight Centre before taking up the opportunity to travel the world himself as host of the TV series Tour the World on Network Ten. He loves to experience everything a new destination has to offer and is equally at home in a five-star Palazzo in Pisa or a home-stay in Hanoi.