Australia's fortunes seem inextricably tied to those of China.
They're our biggest trading partner, but how much do most of us really know about the country and its culture? Well, if you've ever wanted to find out more but you're not sure where to begin, a fact-finding mission to the capital Beijing is an excellent starting point.
Despite the fact that the equivalent of almost the entire population of Australia lives in this mega-metropolis (there are 22 million people no less in the Greater Beijing region), you'll find Beijing a surprisingly charming and laid-back urban centre. The locals are unfailingly polite, the city is seriously spick and span, and centuries of history meld seamlessly with modern life.
This complex society that has somehow managed to marry communist principles with capitalist ideals and lift millions of its citizens from poverty in the process is infinitely fascinating to observe. Yes, there's a smoggy pall that often hangs over the city; yes, it's crowded at the many must-see historic monuments; and yes, the traffic is a trial, but there's so much to recommend this destination. Don't be put off.
Enjoy this Beijing travel guide.
Beijing for history lovers
Beijing began to take shape in the 13th century and the city layout today is the result of several centuries of intense urban planning.
What's most useful to visitors is to recognise the Central Axis, which runs north to south through the centre of Old Beijing — stretching from the Drum and Bell Towers in the north to the Zhengyang Gate in the south. Many of the city's top attractions are located along this line, including Tiananmen Square, the Forbidden City and some of the city's most charming hutong precincts (old neighbourhoods).
Tiananmen Square is the vast 44,000 sqm public space in the centre of the city. Your first sight of the familiar Gate of Heavenly Peace adorned with Chairman Mao's portrait will be a stirring one. The Square and Forbidden City are very popular spots for domestic tourists (many of whom line up for hours to view Mao Zedong in his mausoleum). At peak times Tiananmen Square is a sea of selfie sticks, brightly coloured domestic tour group hats and tour leader flags. It can be quite intense, so consider booking a tour with a local guide if you are travelling independently. You'll get far more out of your visit.
On the eastern side of Tiananmen Square you'll find the National Museum of China. The collection housed within is absolutely staggering. Entry is free. Most museums (including the Forbidden City) are closed on Mondays.
Tiananmen Square sits on the doorstep of the UNESCO World Heritage-listed Forbidden City — China's best preserved collection of historic imperial buildings, which date back to the 15th Century. Unauthorised entry would have meant instant death in days gone by. Today it's open slather and a constant wave of visitors flows through here (capped at 80,000 a day). Like everything in China this place is enormous, and takes the best part of a day to do it any sort of justice.
The city is accessed through a series of gates (starting with the Meridian Gate), and just when you think you must have made a dent in it, another vast inner courtyard opens up before you. It's mind-blowing. You'll make your final exit through the tranquil Imperial Garden and out the Gate of Divine Prowess at the northern end of the complex. Again, booking a guided visit in English is the way to go.
The other historical bucket list topper for most visitors to Beijing is the Great Wall of China. There are a number of sections of the Wall that can be accessed from the city, most of which take around 90 minutes to reach by road. Some sections are fully restored, others are not. It's possible to do it on your own (you can train it to Badaling for example, although this is one of the most heavily visited sections).
If you are travelling with a tour group all the arrangements will be made for you. If you are travelling independently and you decide to join a day tour, book with a reputable travel company rather than taking a tour organised by your hotel. Otherwise you may find there are a lot of hidden extras and unwanted retail stops.
Book a Great Wall of China and Ming Tombs tour from Beijing
The reality is wherever you end up on the Wall, it's truly stunning and the higher you climb the fewer people you'll encounter, which will give you the chance to get some really stunning pictures. Going early in the day is a good way to beat the heat. You'll need good walking shoes, a hat, sunscreen and plenty of bottled water.
Watch our guide for Sky News Business Class to top things to do and places to stay in Beijing:
Adam Ford, editor of The Big Bus tour and travel guide and host of Tour the World, regularly joins the team at Sky News Business Class to discuss top travel destinations around the world. In this interview Adam provides tips on visiting Beijing – China's charming capital city.
Top cultural experiences in Beijing
To experience a slice of Beijing life and cultural heritage, plan to spend at least half a day in the walled Temple of Heaven Park, located south of Tiananmen Square.
There's so much going on here and it's one of the best spots in the city for people watching.
The temple complex has a history dating back to the 15th century. The centerpiece is the divinely symmetrical and balanced Hall of Prayer for Good Harvests. Out in the park itself, take a stroll along the Long Corridor, which runs by the rather grimly named Animal Killing Pavilion (temple sacrifices were once prepared here). Now the locals gather here to practice their Tai Chi or ballroom dancing moves, play mahjong and sing opera. Visit the exercise yard where limber senior citizens work out on the government-provided equipment. It's quite an eye opener, and you are more than welcome to join in. Over in the Matchmaking Market parents with unattached children sit advertising their availability to potential suitors. In a word — fascinating!
Book a Temple of Heaven tour and tai chi class
For a slice of Old Beijing life, head for the city's hutongs — old neighbourhoods characterized by winding, narrow laneways that were formed by the construction of traditional courtyard residences as far back as the 1300s. What were once larger compounds have been divided up into smaller family homes. Shared communal bathrooms (showers and toilets) are still a way of life. Two thirds of Beijing's hutongs were destroyed in the second half of the 20th century to make way for modern high-rise housing. Today it seems that restoration of the remaining neighbourhoods is the name of the game.
Some of the most charming hutongs can be found around the old Bell and Drum Towers in the city's north. The chiming of the bells in the historic Bell Tower was used for timekeeping across the old city right up until the 1920s. Wander at will and soak in the ambience, or alternatively, pay someone else to do the legwork on a rickshaw tour.
Also head south to the hutongs clustered around the canal that runs off the Qianhai Lake. It's incredibly picturesque as you stroll along the canal crisscrossed with bridges and lined with weeping willows.
Catching a performance of Peking Opera is a must-do for culture vultures. This combination of singing, dancing, mime and acrobatics dates back to the 17th century.
Great places to eat in Beijing
There are endless places to eat in Beijing and the food is fabulous.
You'll find the names familiar but not the tastes, compared with your local Chinese takeaway back home. Here are just a couple of quintessential experiences on the culinary spectrum.
At some stage during your visit you will probably end up at Wangfujing's Snack Street — a narrow alley lined with street food stalls. It absolutely heaves in the evening. Love it or loathe it, the range of street food on offer is extraordinary, although in some cases challenging for western sensibilities depending on what's on the menu. It's definitely the spot for cheap and tasty tucker, with most dishes costing around 10 Yuan for a serving.
Peking Duck is regarded as Beijing's signature dish and dates back to Imperial times. You'll find it on menus across town, but Dadong in the heart of Wangfujing gets great reviews. The bird is carved at your table with plenty of flourish.
If you want to eat 'like a local', the hutongs are the place to do it. But it's a brave western tourist that would attempt to do it unaccompanied (only for the language barrier and maze-like nature of the hutong neighbourhoods). An evening food tour with a local guide is a great way to go. You'll try dishes that Chinese chefs have been perfecting for centuries!
Where to shop in Beijing
Wangfujing isn't just a great spot to pick up some cheap eats.
It's also a chance to hammer your credit card! The vast (of course) pedestrianised and heavily neon-ised strip is home to many major international retail brands and several homegrown department stores. It all kicks off with a monster Apple store at the northern end. Around the corner on Jinyu Hutong you'll also find the likes of Prada, Dior and Burberry occupying the ground floors of many of the area's top international hotels.
Wangfujing is also a handy spot to search for low-cost gifts and souvenirs. Colourfully boxed candies and the like are an easy option.
For those interested in purchasing a piece of jade during their visit to Beijing, there are a number of government-controlled factories and outlets around the city. On arrival you'll be given a presentation on how to tell the real McCoy, before being let loose in the showroom with a sales assistant at your beck and call.
Ways to relax in Beijing
China's tea drinking culture dates back some 5,000 years and a tea ceremony is a wonderful way to connect with this heritage.
While you're getting yourself suitably lost in the hutongs around the Drum and Bell Towers, call into the Bell Tower Tea House and rest your weary feet with a good cup of char (the term 'char' actually comes from the Chinese word for tea!). You'll no doubt feel all the better for it, as tea has been used locally to treat all manner of ailments for centuries. Jasmine is said to be good for brightening the eyes and strengthening the liver, while Ginseng aids digestion and Pu'Er helps shed weight.
With your liver toned, you'll be in fine shape to seek out Beijing's flourishing craft beer scene. The Chinese have actually been brewing beer longer than they've been making pots of tea. Brewing is thought to date back 7,000 years. However, the craft beer scene is a relatively new phenomenon. It's well worth seeking out Great Leap Brewing, which has two locations. One of them is a wonderful courtyard hidden away in a hutong near the Qianhai Lake canal.
Adam travelled as a guest of Collette on their China Highlights tour.
Do you have any tips to add to our Beijing travel guide? We would love to hear from you. Please leave a comment below.
Additional images: Bigstock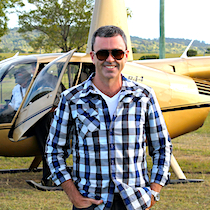 About the writer
Adam Ford is editor of Top Oz Tours and Travel Ideas, and a travel TV presenter, writer, blogger, and photographer. He has travelled extensively through Europe, Asia, North America, Africa, and the Middle East. Adam worked as a travel consultant for a number of years with Flight Centre before taking up the opportunity to travel the world himself as host of the TV series Tour the World on Network Ten. He loves to experience everything a new destination has to offer and is equally at home in a five-star Palazzo in Pisa or a home-stay in Hanoi.
keyboard_arrow_leftPrevious
Nextkeyboard_arrow_right