Top cultural activities in Brighton
Brighton's cultural scene is what gives the city its famous edge.
A history of creativity and individualism is stitched into the fabric of life here. The huge underground arts, music and performance scene not only accepts 'different', it positively celebrates it — and you don't have to go far to find it, with a street performer on just about every corner.
You're never far from a quirky gallery or museum either. Some of the more mainstream options to tick off are the Hove Museum and Art Gallery (which has a magnificent collection of regional art), Phoenix Art Space (an excellent contemporary artist-run studio), and the Booth Museum of Natural History (if you're into birds, bones and butterflies, welcome to nirvana).
Brighton for history lovers
Throughout its evolution from a tiny 5th century Saxon village (called Beorthelm's Tun) to the cosmopolitan 21st century city you see today, Brighton has played a key role in the history of East Sussex.
The Keep is an outstanding historical resource centre, which holds an archive of records relating to the East Sussex region that dates back more than 900 years.
The city began to gain serious renown in the 18th century when it became popular with royalty and the aristocracy, who believed in the healing properties of bathing in the sea. The state-of-the-art Brighton Museum and Art Gallery — located in the must-see Royal Pavilion complex — has an extensive library of local history records, as well as an important collection of British and international artworks.
Great places to eat in Brighton
From pop-up food vans and vegan hipster joints, to celebrity chef-run eateries and famous fish and chipperies, there's plenty of variety on the menu in Brighton.
For the best of British breakfasts and afternoon teas, check out The Mock Turtle Tea Shop — a local hangout of students, creative types and the odd cross-dresser. Just around the corner is local institution Terre a Terre, which does tasty vegetarian food with a twist.
If you're shopping in The Lanes (see our top tips for retail therapy), treat yourself to dinner in the bold, glamorous surroundings of the super-trendy Flint House in Hannington's Estate. With relaxed small plate dining downstairs and a cocktail bar and terrace upstairs, it's an Instagrammer's dream. You can't get cooler than this in Brighton.
Serving up a front row view of the ocean, Murmur offers modern British cuisine with a celebrity twist. The second Brighton offering from Michael Bremner (the Great British Menu TV series winner for 2017 also has the award-winning 64 Degrees), Murmur offers superb set and a la carte menus with a focus on fine but healthy food.
And, although it's a cliché wrapped up in yesterday's newspaper, you simply can't leave Brighton without enjoying fresh fish 'n' chips from the iconic Harry Ramsden's.
Where to shop in Brighton
While there's a pretty well trodden high street representing all the familiar mainstream brands, it's all about The Lanes in Brighton.
This ancient part of the city is a collection of twisty lanes and alleys lined with a curious selection of shops and boutiques, with everything from contemporary home wares, apothecary products and antique jewellery, to food, furniture and vintage fashion.
The Lanes are as much a place to see and be seen as to shop. Let your inner Austin Powers out for an airing and commission yourself a 'cool Britannia' bespoke suit at Gresham Blake, or try to resist the irresistible at Velvet boutique. Located on the former site of Brighton's grandest department store, Hanningtons Estate offers a curated mix of cafes, restaurants and quirky retailers sitting shoulder to shoulder with established names like Cath Kidston and Kurt Geiger. This new 'cultural quarter' is the hottest spot in town, and only adds to the lure of The Lanes.
For antique lovers, Snoopers Attic is a glorious hotchpotch of clothes, books and textiles.
Ways to relax in Brighton
It's hard not to relax when you're at the seaside.
Aside from the beach itself (by the way, don't expect any sand — it's pebbles all the way), the main attraction is the famous Brighton Pier — a glitzy piece of British historical homage to beachside pleasure. While some consider it past its prime, there's no denying the pier's popularity and tourists flock there for all the charmingly innocent fun of the fair.
If you're looking for the best views in town, you don't have to go far but you do have to go high! The British Airways i360 Viewing Tower takes you up 140 metres in a futuristic glass viewing pod to enjoy 360-degree views as far as the eye can see. There's even a bar on board.
When the weather's fine, the Royal Pavilion Gardens is a fantastic place to stop and smell the flowers, enjoy the regular free entertainment, or just lie back with a stick of the famous Brighton Rock and contemplate the exotic domes and spires of King George IV's retreat by the sea.
For more inspiration, visit www.visitbrighton.com.
Browse our range of Brighton tours and experiences here.
Do you have any tips to add to our Brighton travel guide? We would love to hear from you. Please leave a comment below.
Additional images: Bigstock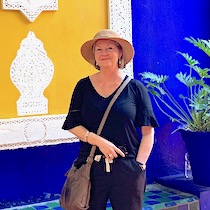 About the writer
Julietta Henderson is a Melbourne-based travel writer and author. Originally planning to visit London for six months, she ended up staying for ten years and now divides her time between her home in Australia and several months of the year in the UK, Italy, and France. Julietta has travelled extensively through Europe, North America, Indonesia, New Zealand, Australia, and Russia, and believes the keys to a great travel experience are an open heart, an open mind, and an open-ended ticket. Her first novel — The Funny Thing About Norman Foreman — is now available in bookstores.
keyboard_arrow_leftPrevious
Nextkeyboard_arrow_right