Top cultural activities in Glasgow
The diverse cultural scene is one of the best reasons to visit this destination.
Designated a European Capital of Culture back in 1990, the arts scene in Glasgow has continued to evolve into one of the most vibrant, exciting and occasionally subversive in the world.
The classic cultural offerings are extensive. The city is home to the prestigious Royal Scottish National Orchestra, the Scottish Opera, the Scottish Ballet and the National Theatre of Scotland, which adapts itself to a variety of performance spaces.
Art lovers can have their pick from some of Europe's finest museums and galleries, among them the mind-boggling collections of the Glasgow Gallery of Modern Art, Kelvingrove Art Gallery and Museum, state-of-the-art Glasgow Science Centre, the interactive Riverside Museum, and funky Glasgow Tramway — unofficial home of the Turner Prize. For something completely different, a visit to The Glue Factory arts space reveals an inspiring microcosm of creative mayhem.
Musically, Glasgow marches to a variety of beats. Book a guided walking tour of the 'Music Mile' to see venues as diverse as the Glasgow Royal Concert Hall and widely lauded King Tuts Wah Wah Hut — the bar where Oasis was discovered and signed.
Glasgow for history lovers
You could spend weeks working your way through the historical attractions in Glasgow.
The city's medieval roots can be explored through the architecture of the Glasgow Cathedral, Provan Hall (watch out for the spectres that are said to appear at windows to spook passersby), the Tolbooth Steeple — a seven-storey former prison and execution site, and Crookston Castle — located just outside the city, but well worth visiting.
For those more interested in modern industrialised history, the People's Palace (and Winter Gardens) takes you on a fascinating journey back in time to explore the evolution of the city from the 18th to the 20th centuries.
George Square — the city's main civic precinct — was laid out in 1781. Here you can pay homage to the twelve statues of the city's most famous sons and daughters, including poet and lyricist Robbie Burns and Queen Victoria.
Great places to eat in Glasgow
With the best of Scottish produce at its disposal, Glasgow is a foodie's dream destination.
The city serves up its own versions of tradition in equal measure with ritzy restaurants, uber trendy eateries, and cheap and cheerful nosh houses. Book a table at gastronomic icon Rogano to get an all-round introduction to authentic Scottish cuisine (yes, there'll be haggis). You'll be occupying seats kept warm by some of the most famous names in Hollywood history.
Casual dining is SO much fun in this town. Burger lovers, if you can get your jaws around the creations at Lebowskis, you'll earn serious bragging rights. They're of epic proportions! Fans of fresh seafood, make haste to Crabshakk (which does exactly what it says on the tin!).
Reputedly the birthplace of chicken tikka masala, Glasgow's love of a good Indian curry is legendary. Must-try Mister Singh's India is located in the city centre and offers a delightful fusion of cultures (think kilt-wearing waiters serving haggis pakora).
Where to shop in Glasgow
The mecca for fashionable Glaswegians is the 'Style Mile'.
This square mile in the centre of the city comprises a huge array of big name retailers, designer boutiques and high street favourites (more than 200 stores in total), and is billed as the next best thing to London's West End. If you're in the market for a girl's best friend, the Argyll Arcade houses shoulder-to-shoulder high-end jewellers.
For something a little less mainstream, trawl the stores in the West End's Cresswell Lane for vintage and retro fashion (and hit the charming Cup and Saucer Tea Room for an olde worlde cuppa and sweet treat!).
Ways to relax in Glasgow
Kicking back and relaxing is a serious job in Glasgow.
More often than not it involves the partaking of a wee dram — aka the famous Scotch Whisky. If you take your drinking seriously, a drive out to Glengoyne Distillery is a dream come true (if not a hangover in the making), while an evening at Nice 'N' Sleazy will introduce you to the real Glasgow. It's been around since the early nineties and has become somewhat of a notorious (in a good way) watering hole.
For a less exuberant way to relax and unwind, numerous parks and gardens beckon. The Glasgow Botanic Gardens is one glorious option and is home to the Kibble Palace — Britain's largest glasshouse (which is the perfect place to warm up in winter!). You can also wander along the river from the gardens to Kelvingrove Park and back into the West End on part of the famous Kelvin River Walkway. If there's a more relaxing way to finish up in Glasgow, ah dinnae ken…
For more inspiration, visit www.peoplemakeglasgow.com.
Browse our range of Glasgow tours and experiences here.
Do you have any tips to add to our Glasgow city guide? We would love to hear from you. Please leave a comment below.
Additional images: Bigstock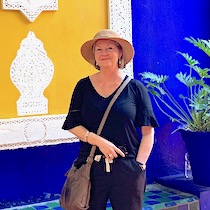 About the writer
Julietta Henderson is a Melbourne-based travel writer and author. Originally planning to visit London for six months, she ended up staying for ten years and now divides her time between her home in Australia and several months of the year in the UK, Italy, and France. Julietta has travelled extensively through Europe, North America, Indonesia, New Zealand, Australia, and Russia, and believes the keys to a great travel experience are an open heart, an open mind, and an open-ended ticket. Her first novel — The Funny Thing About Norman Foreman — is now available in bookstores.
keyboard_arrow_leftPrevious
Nextkeyboard_arrow_right