Welcome to Lima — where life is lived to the full, family is everything and food is a joy to be savoured.
Having said all that, Peru's capital city needs a little time to work its charms — so don't be too quick to judge based on first impressions. The drive in from the airport is fairly uninspiring, but trust me, things will improve.
One thing you won't need to worry about in Lima is rain on your holiday parade. It virtually never rains here (well, 5 millimetres a year, but that's generally precipitation from fog rolling in off the Pacific). There are very few holiday wash-outs or problems on wash day for the city's nine million residents. As a big city, Lima has had its share of social issues over the years, but it's a lot safer than it used to be. Still, be vigilant, especially at night — and don't take taxis alone.
Enjoy this Lima travel guide.
Top cultural experiences in Lima
To immerse yourself in local history and culture, head for the UNESCO World Heritage-listed Historic Centre of Lima.
With its magnificent colonial buildings and wonderful Andalusian and Moor-inspired architecture, the Plaza de Armas has been the centre of life in the city since it was established in 1535. The central fountain dates back to the 1600s.
Don't miss the changing of the guard at the Palacio de Gobierno (Presidential Palace) on the northern side of the Plaza at around noon. The day we were there, the ceremony only drew a very small crowd, so you could potentially have it all to yourself!
Explore more of the city at your own pace on a hop on hop off sightseeing tour. The circuit takes in ten must-sees, including Larcomar Park, Parque del Amor, the Huaca Pucllana pyramid, and the Basilica y Monasterio de Santo Domingo (Santo Domingo church and convent), with its gorgeous central cloistered courtyard and exquisite tile work.
As you travel through Peru, you'll come to appreciate the key role ceramics have played in preserving pre-Columbian cultural heritage. Housed in a colonial mansion in the city's north-west, Museo Larco's collection of some 50,000 pieces of pottery is a mind-blowing must-see.
Lima for history lovers
For those that want to delve deeper into Peru's past, Pachacamac is the ideal introduction to the history of the Incas.
The massive archaeological site is a 40-kilometre drive from the city. It's a harsh and unrelenting environment, so bring a good hat and plenty of water.
Pachacamac has a number of pyramids and some modern recreations to give you an idea of how things would have looked back in the day. There's a small museum and extremely helpful guides to assist in making sense of it all. You'll notice that the line between history and modernity is becoming increasingly blurred, as modern-day housing settlements encroach on the site from all sides.
Great places to eat in Lima
Prepare to eat late in Lima.
Dinner can be served anywhere from 8 until 11pm, but you can enjoy a reviving lonche (light snack) around 6pm. Chicken and seafood feature prominently on most menus; red meat less so.
Lima has no shortage of great places to eat. We loved Restaurant Huaca Pucllana, which overlooks the excavated Incan pyramid. Lit up at night, it provides a unique ambience. You can even take a stroll around the pyramid to walk off your arroz con leche (traditional rice pudding), served with ice cream on top.
A food tour is always a good way to get under the culinary skin of a destination. Alternative Peru operates around an ethos of responsible tourism and their full-day food and culture tour will see you visiting a produce market and trying specialties from some of Lima's diverse immigrant neighbourhoods. Lunch is included and you'll get to spend some time in the home of a local family.
Where to shop in Lima
Miraflores is Lima's tourist hub and is home to a plethora of cafes, restaurants, fashion boutiques and artisanal markets.
Most of the city's tourist hotels are also located in the Miraflores area. While it can all seem a little overwhelming at first, don't be afraid to venture out and explore (it took us almost our whole stay to work out that we had a historic square lined with handicraft stores just behind our hotel!).
For everything you'll probably want to shop for under one convenient roof, head to the Larcomar centre. Built on the clifftop overlooking the Pacific Ocean, it also offers lots of places to eat and fabulous views to boot.
Ways to relax in Lima
The Plaza de Armas is a great spot to relax and indulge in a spot of Peruvian people watching.
If you're due for a coffee stop, there's a rooftop café with yellow umbrellas directly opposite the palace on the far side of the Plaza. The door is to the left. Go up three flights of stairs and veer right. The views over the Historic Centre are amazing, as is the coffee!
Lima enjoys some gorgeous ocean sunsets, and a lovely spot to watch them is Parque del Amor (Park of Love) on the edge of Miraflores. You can't miss El Beso (the Kiss), which is actually a sculpture of the sculptor Victor Delfín and his wife in a passionate embrace.
Do you have any tips to add to our Lima travel guide? We would love to hear from you. Please leave a comment below.
Additional images: Bigstock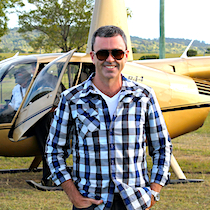 About the writer
Adam Ford is editor of Top Oz Tours and Travel Ideas, and a travel TV presenter, writer, blogger, and photographer. He has travelled extensively through Europe, Asia, North America, Africa, and the Middle East. Adam worked as a travel consultant for a number of years with Flight Centre before taking up the opportunity to travel the world himself as host of the TV series Tour the World on Network Ten. He loves to experience everything a new destination has to offer and is equally at home in a five-star Palazzo in Pisa or a home-stay in Hanoi.
keyboard_arrow_leftPrevious
Nextkeyboard_arrow_right