The Shanghai skyline is one of the most recognisable in the world.
Shanghai, which literally means 'above the sea', straddles the Huangpu River — a tributary of the Yangtze as it spills out into the East China Sea. This is China's most populous city, and it continues to grow at an extraordinary rate as people migrate here in search of prosperity. Meanwhile the busiest container port in the world ships goods out to feed insatiable global consumption.
The tale of the city is somewhat familiar: sleepy village becomes global financial and trading hub. However, as Shanghai is propelled into the future at an electrifying rate, residents are keen to uphold their heritage and honour their past. Cuisine from all corners of the globe delights diners, as do traditional local favourites. Shopping has become a hobby in this booming economy, and there's no shortage of glitz and glamour to go with it.
Enjoy this Shanghai travel guide.
Ten top things to do in Shanghai
Shanghai for history lovers
Take a history lesson as you walk along the Bund waterfront precinct, guided by the architecture.
Art Deco and Neoclassical buildings are pieces of a jigsaw puzzle that covers more than a hundred years. Fairmont Peace Hotel, which is considered by many as the birthplace of the modern city, is a great place to have afternoon tea. Customs House (built in 1927) and the Waldorf Astoria (the old Shanghai Club) are stunning.
The Bund is a focal point of Shanghai and a gathering place for strolls and photo opportunities. The red orbs of the Oriental Pearl Radio & TV Tower are unmistakable, although now in the shadows of the Shanghai Tower and World Financial Centre across the river in Pudong.
You can travel under the river via the Bund Sightseeing Tunnel, through a maze of neon lights and lasers. From the Bund the tunnel is convenient, however ferries are cheap and a more interesting way to get across. The Shanghai Metro can get you back to your hotel.
The camel-back Shanghai Waibaidu Bridge (Garden Bridge) at the northern end of the Bund is over a century old and links the past with the present. It's a popular spot for wedding photos.
China's tranquil water towns offer a glimpse of the past, and there are several within easy reach of central Shanghai. Xitang is less commercial and less crowded than the more popular Zhouzhuang Water Town. Wooden buildings jut out over canals, while ornate bridges allow you to explore with ease.
Top cultural experiences in Shanghai
There are so many aspects of Shanghai culture to experience.
Culture Shock Tours will take you into the heart of the city on a four-hour bike tour that will open your eyes to the traditions still thriving in the shadows of the modern skyline. Journey through narrow lanes in the peaceful former French Concession, discover hidden villas from the 1920s and join the locals in their morning Tai Chi routine at Fuxing Park. Enjoy the atmosphere of the old town, where time seems to have little meaning.
On the subject of bikes, while in most parts of China it seems everyone owns the traditional version, in Shanghai electric bikes zip around with little regard for traffic signals or pedestrians. They are eerily quiet, so keep an eye out as you cross the road as they can sneak up on you!
Buddhism is practiced by almost 20% of the Chinese population, and the history of Longhua Temple in Shanghai dates back to 242 AD. It's the largest temple in the city. Each year a huge bell is struck 108 times to welcome the Western New Year, while the bells on the pagoda in front of the temple chime in the breeze. Longhua Park is particularly busy when the peach trees blossom in late spring. It's a top spot for a stroll.
As the local saying goes, those who fail to reach the City God Temple of Shanghai never reach Shanghai. Make sure you do. The nearby streets are filled with shops and food stalls where you can sample virtually every traditional Shanghai snack. Nanxiang Small Steamed Buns is one of the most famous. Make sure you also try xiao long bao dumplings. Dip them in vinegar and be careful as you bite into them (they're hot!), allowing the soup inside to run out into your mouth.
At 50 Moganshan Road more than a hundred artists open up their galleries and studios to the public. If you are interested in modern art, this is the place to witness Shanghai's creative juices flowing.
Book a Shanghai Contemporary Art Walking Tour (Private)
Great places to eat in Shanghai
For a quick snack on the go in Shanghai, you can't go past a fresh egg tart.
This deliciously sweet and creamy concoction, similar to creme brûlée in a flaky pastry shell, originated in Portugal and was introduced into China via Macau. It now appears on every dessert menu across the country. Believe the hype. With outlets throughout the city, Lillian Bakery makes one of the best.
Fu 1039 dishes up authentic Shanghai cuisine. Housed in a colonial 1930s mansion, here you'll dine shoulder to shoulder with the locals. Try the deep-fried fresh river shrimp and the Shanghai smoked fish.
Tai Sheng Yuan has five locations across the city and is another firm favourite with local diners. The menus are like big colourful picture books, so while ordering is easy, choosing is not! Be adventurous and go the whole deep-fried pigeon or the simpler roasted garlic chicken (be warned: it comes complete with crispy wings and head!). The tasty vegetarian options will have even the most ardent carnivore devouring sizzling aubergine (egg plant) or fried mushrooms. Incredible!
The Park Hotel is a stunning example of 1930s architecture, and houses a bakery that produces the crisp and light Butterfly Crackers that are as famous as the venue. Situated around the corner on Huanghe Road, the line can be forty deep from the minute the doors open until they close or sell out.
Keep walking past the bakery and take a right down Fengyang Road, where you'll find a little noodle shop at number 82. A neon sign shows mama making fresh noodles. They're hearty and delicious and will settle your hunger pains for around AUD $5.
Book a Shanghai Noodles and Wontons Tour
When the food is this good you can understand why Hong Kong import Under Bridge Spicy Crab has set up shop in Shanghai. Spicy crab, as the name suggests, is the main attraction and you can spice it up (or not) to your heart's content. Under Bridge Spicy Crab is located in the SOHO Fuxing Plaza.
Mr & Mrs Bund is a modern French bistro that serves dishes designed to be shared. Settle in for a delicious dinner or stop by for brunch or a late night snack. As you're served intricate flavour combinations coupled with traditional French fare, you can almost touch the Pudong skyline. Stroll on to Bar Rouge for a night-cap.
It's perfectly acceptable in Shanghai to go in search of something to eat other than Chinese food. Cafe Sambal is worth the side step for exquisite Malaysian cuisine. Everything is good — especially the oxtail soup. If you're in need of a Western food fix, Wagas will hit the spot. Fresh salads, juices and sandwiches will keep you going while you explore the city. Say g'day to Jackie, one of the owners, who lived in Australia for many years.
Where to shop in Shanghai
The Fabric Market is a must if you are looking for tailor-made clothes, curtains and cushion covers.
Most concierges will have a stamp with the address that they can stamp on a map for you to show your taxi driver. If not, get them to write it down for you. Take a hotel name card so a taxi can get you back safely. Measure up at home before you leave and you'll soon have a whole new decor, at a fraction of the price you'd normally pay.
For those who love designer labels but are not so keen on the associated price tags, the Metro will drop you right in the middle of the biggest knock-off market in town — AP Plaza. Get off at the Science and Technical Museum stop. Bags, watches, clothing, sporting goods — you name it, you'll find it here. The market gets raided now and then as authorities attempt to crack down on the illegal trade.
Nanjing Road and the nearby Raffles City shopping centre are where you'll find the real deal. The world's best-known brands and high-end fashion labels all have a presence here. As you walk down Nanjing Road, take the time to detour down the side streets where you'll find smaller shops selling anything from household goods to clothing and food. Jing'an Temple houses the largest jade Buddha in China and morning prayers echo throughout the neighbourhood.
Make sure you also explore the alleys and laneways of Tianzifang in the former French Concession, where you'll discover many hidden treasures, art studios and boutiques. Stop for an al fresco coffee and watch the world go by. This area has a more relaxed and old-world feel than the hustle and bustle of Nanjing Road. For lunch, it's worth joining the queue at A Niang Mian (Grandma's Noodles) to see what all the fuss is about.
Boxed Chinese sweets make a great alternative to key rings and t-shirts when shopping for souvenirs or gifts. They're beautifully presented and there's an endless choice. Pick the ones that look the prettiest — or ask for samples and choose the tastiest option!
Ways to relax in Shanghai
There are plenty of things to do in Shanghai that will you leave you feeling refreshed and revitalised.
It seems that each global city tries to out do all others with a soaring viewing platform, and while the Shanghai Tower sits below Dubai's Burj Khalifa, its observation deck is higher at 561 metres. The sprawling city below clings to the river and beyond. The views are truly stunning.
Purchase Shanghai Tower Tickets
While the People's Park (bordering Nanjing Road) is a hive of activity, it's also the perfect place to relax with some takeaway from one of the many street-side food stalls. There's plenty of space; the park is big enough to hold 1.2 million people! Spend a couple of hours exploring the nearby Shanghai Museum.
Tai Chi is performed regularly in Xiangyang Park (close to the Shanghai Arts and Crafts Museum). Join in or simply watch. Either way it's surprisingly calming.
After the initial shock (it may hurt just a little), a session of reflexology will have every organ detoxified as the practitioner works their way around your body, guided by the pressure points on your feet. The feet are a roadmap to your wellbeing and you may well want to put them up for a spell after the experience. Plan this for late afternoon (after a day's walking) before heading out for the evening, or as a prelude to a very restful night's sleep.
Do you have any tips to add to our Shanghai travel guide? We would love to hear from you. Please leave a comment below.
Additional images: Bigstock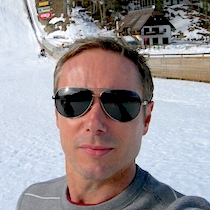 About the writer
As a travel blogger and photographer, Neil Brook travels the world looking to meet interesting people, taste great food, and find different angles from which to write about his adventures. He is privileged to have lived in Australia, the Philippines, Japan, Singapore, Thailand, Vietnam, and the United Kingdom. More a traveller than a tourist, Neil prefers to mix with the locals, learn their history and culture, and walk the backstreets to uncover hidden gems worthy of praise in words or quiet moments of private reflection.
keyboard_arrow_leftPrevious
Nextkeyboard_arrow_right