Where to shop in Singapore
Let's get this out of the way first — while Singers is not the discount haven it once was, it's still a great place to shop.
Orchard Road is home to every fashion label from Mango to Gucci, and is undoubtedly one of the world's premier retail strips. If you can't find it here, it probably doesn't exist.
The newly opened Design Orchard has added another feather to the precinct's cap. A self-proclaimed incubator for local talent, this contemporary open-plan mall features a communal workspace and the retail shopfronts of around 60 Singapore designers.
If you're after something quirky and unique, head to Arab Street and Haji Lane where you can create your own perfume, purchase some bling and pick up funky fashions and accessories. While you're there, sample some Moroccan or Lebanese delicacies and spend some time in a traditional tea room, replete with the scent of mint, apple and cinnamon from the bubbling hookah pipes.
Singapore for history lovers
Singapore's colonial history is on display all over town, but it is Raffles Hotel that truly epitomises the era of British rule.
As you stroll through Raffles' historic lobby, relax in the manicured gardens, or sip away on a signature Singapore Sling, it's easy to envisage the likes of Rudyard Kipling, Christian Louboutin or the Duke and Duchess of Cambridge doing the very same thing. The hotel has recently undergone a multi-million-dollar revamp to bring its guest facilities into the 21st century.
To experience a different chapter in the city's history, take a traditional bumboat from Changi Point Ferry Terminal to Pulau Ubin — one of Singapore's last bastions of kampung (village) living. The island features next to no development, plenty of wildlife and some lovely scenery. Most people choose to hire a bicycle to navigate Pulau Ubin, but it's equally pleasant to walk the seven kilometres' round-trip to the Chek Jawa Wetlands.
To get the back-story on Singapore (and much of wider Asia for that matter), add the excellent Asian Civilisations Museum to your holiday to-do-list. Spend as much or as little time as you want perusing the thousands of artefacts on display. You'll leave with a newfound understanding of where it all began for this modern economic masterpiece.
Top cultural activities in Singapore
Singapore is a true melting pot of cultural influences.
Head out and explore the various ethnic enclaves around the city, including Chinatown. The distinctive three-storey, pastel-coloured shop-houses and the atmosphere in general make this part of Singapore something really special. Just wander at will and take it all in.
While you're in this part of the city, the Chinatown Heritage Centre is an immersive experience that transports modern travellers back to 1950s Singapore. It features recreated living quarters and workshops of the various Chinese industries that were key to Singapore's early development.
Little India is another of Singapore's cultural focal points that demands a closer look. Follow your nose to this colourful neighbourhood, which serves up superb fare from across the subcontinent. Again, the colourful architecture here is one of the highlights.
Great places to eat in Singapore
It's fair to say that the cuisine is one of the top reasons to visit Singapore.
In fact, food is an intrinsic part of the city's culture. As the late celebrity chef and gourmet traveller Anthony Bourdain once said: 'What you do in Singapore is eat.'
There's certainly no shortage of fancy-pants food options on offer, but why fork out for expensive nosh when there is an abundance of delicious and cheap street food available on every corner? The city is also renowned for its hawker centres (food courts), which serve up chicken rice, laksa and roti at great speed and with a low price tag. Be sure to check out the markets at Newton Circus and Maxwell Road.
While you're exploring Orchard Road, pay a visit to A Noodle Story. Here, East and West collide in a fusion that will make any foodie happy. Blending the exotic traditional flavours of Asia with European culinary techniques, their signature ramen is sensational.
If you want bragging rights (the waiting list can be up to a month long!) and an amazing meal to back it up, plan well ahead and book a table at Burnt Ends in Chinatown. True to the name, everything here is cooked over an open flame grill, resulting in melt-in-your-mouth meats, seafood and, yes, even vegetarian options.
For something a little different, embark on a journey of partial sensory deprivation and sensational tastes at NOX Dine in the Dark. This unique dining experience forces you to focus entirely on the textures and taste of the food, rather than the visuals. It's not a gimmick and the food is absolutely sublime. If you're not afraid of the dark, this is a culinary experience not to be missed!
Ways to relax in Singapore
Despite its image as a 24/7 world city, Singapore is a surprisingly relaxed and laid-back destination.
The UNESCO World Heritage-listed Singapore Botanic Gardens is a perennial favourite for locals and visitors looking to escape the concrete jungle and commune with nature. The National Orchid Garden is one of the Botanic Gardens' most popular precincts and holds a collection of around one thousand orchid species.
Gardens by the Bay is the city's newest green space. It's a somewhat odd combination of the artificial and natural, but is worth seeing. The skywalk provides panoramic views of the city, including the hard-to-ignore Marina Bay Sands complex.
To indulge in some seriously spectacular views, head to MBS and take the trip up to the SkyPark Observation Deck. Sadly, the infinity pool on the 57th floor is available only to hotel guests.
Across Marina Bay, the Singapore Flyer stands tall as one of the world's largest observation wheels. At 165m high, you'll get yet another bird's eye view of the city. The three-level terminal is packed with dining and shopping options (of course!).
Wildlife lovers will love their time in Singers. There are four wildlife parks to cover — Singapore Zoo, Night Safari, River Wonders, and Jurong Bird Park. If you are planning to do them all, a four park pass is available.
Those looking for some serious 'me-time', should consider a stay on Sentosa Island — a man-made island off the southern tip of Singapore. The island is home to several resorts with white sandy beaches and a number of top attractions, including Universal Studios Singapore and Sea Aquarium.
For more inspiration, visit www.visitsingapore.com.
Browse our range of Singapore tours and experiences here.
Do you have any tips to add to our Singapore travel guide? We would love to hear from you. Please leave a comment below.
Additional images: Bigstock
About the writer
Samantha Wasson is a Sydney-based freelance writer and former educator. She lived in Vietnam for three years and has travelled extensively in Asia, Europe and the United States, with a brief sojourn in Africa. Travel highlights to date have included studying German in Freiburg, volunteering at an elephant rehabilitation project outside Chiang Mai, and travelling by motorbike through the Mekong Delta. A lover of literature and travel, Samantha subscribes to Augustine of Hippo's observation that 'the world is a book and those who do not travel read only one page'.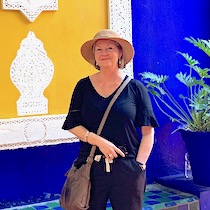 About the writer
Julietta Henderson is a Melbourne-based travel and feature writer. Originally planning to visit London for six months, she ended up staying for ten years and now divides her time between her home in Australia and several months of the year in the UK, Italy and France. Julietta has travelled extensively through Europe, North America, Indonesia, New Zealand, Australia and Russia, and believes the keys to a great travel experience are an open heart, an open mind and an open-ended ticket.
keyboard_arrow_leftPrevious
Nextkeyboard_arrow_right