A kaleidoscope of neon lights melds with the colourful, ever-present spectacle of towering billboard advertisements.
The accompanying soundscape is equally vivid. Music buses pump out infectious J-pop from their speakers, underscored by the incessant hum of ubiquitous pachinko parlours and the fleeting conversations from the swell of passing strangers. Welcome to downtown Tokyo — a metropolis truly designed to stimulate the senses.
This is a city that doesn't come with an off button. Yet, in true Japanese style, there is an organised and harmonious social etiquette that underpins the feverish pace. Although some things may inevitably get lost in translation, the capital will soon have you wholly infatuated — and perhaps even belting out a spot of karaoke.
Enjoy this Tokyo travel guide.
Top cultural things to do in Tokyo
One of the most interesting things to do in Tokyo is to explore its diverse neighbourhoods.
The vast, sprawling metropolis is made up of twenty-three administrative wards, which are further divided into smaller neighbourhoods. They are all connected by an extensive and efficient rail network, but each has its own defining characteristics and counterculture.
In western Tokyo, you'll find the famous Shibuya and Shinjuku neighbourhoods — notorious for their frenetic pace, neon lights, giant screens, and constant buzz. Dodge other pedestrians while crossing the Shibuya Crossing (rumoured to be the busiest intersection in the world) and explore Shinjuku's red-light district dotted with more-cheesy-than-sleazy love hotels.
The Golden Gai area is another highlight. It's a series of narrow laneways crammed with tiny bars that are usually packed with salarymen. Just make sure you choose a foreigner-friendly bar (signage in English is usually a good sign!).
Also pay a visit to the lively area of Harajuku (try not to gawk at the crazy fashion) and check out the entertaining rockabilly dancers at Yoyogi Park. The charming neighbourhood of Nakameguro offers the chance to stroll along the tree-lined canals of the Meguro River — an especially impressive sight during hanami (cherry blossom viewing).
In central Tokyo, head to self-confessed 'nerd town' Akihabara to observe the prevalent anime and manga culture — and don't bat an eyelid as you watch the 'maids' walk on by. To the north, Ikebukuro is another cosplay centre that is also known for its butler cafes.
For specific experiences that highlight just how quirky Japanese culture can be, start by booking a table at the Robot Restaurant — which is much more than simply a place to eat. The evening includes a robot-themed show, complete with robots (naturally), lasers and pumping music. It's a mind-boggling performance!
Tokyo started the worldwide craze of the cat café, so why wouldn't you have coffee with some furry friends while you're in town? Check out Cat Café MOCHA, which has several locations across the city.
And finally, it would be remiss to come all the way to Tokyo and not see a sumo match — the form of competitive Japanese wrestling that dates back more than 2,000 years. Ryogoku Kokugikan is one of the city's key sumo venues. The stadium hosts a busy programme of ticketed events. You can also visit the onsite museum, and the sumo stables where the wrestlers live and train.
Book a Sumo Wrestling Lesson in Ryogoku
Great places to eat in Tokyo
Tokyo is a Michelin-star mecca.
The city is home to the most three-starred restaurants in the world, as well as having the most starred restaurants overall. But you won't need to shell out the big bucks for quality food. Even the bao served in 7-Eleven stores are mouth-wateringly delicious!
Leave time during your stay to line up for tsukemen (ramen noodles and a hot thick broth) at Rokurinsha on Tokyo Ramen Street (under Tokyo Station). You won't be sorry.
Sushi lovers should visit the famous Tsukiji Market. Try your luck at getting into popular Sushi Dai to watch the skilful sushi chefs in action.
Book a Tsukiji Market Food Walking Tour
It's also worth braving the labyrinthine Omoide Yokocho — known colloquially as 'Piss Alley'. Find a cosy izakaya (bar) and order the succulent grilled yakitori skewers with a side of saké. As you enter, you'll hear echoes of Irasshaimase! called out by the chefs, essentially welcoming you in.
Get a taste of another culinary traditional at Onigiri Asakusa Yadoroku — the city's oldest onigiri (rice ball) snack bar. Here the owner can be seen making the balls by hand in front of his audience of adoring and very appreciative locals. There's only room for eight diners at the counter, so be prepared to wait for your serving of the delicious balls. They're so good, they've even been featured in Michelin's Tokyo guide.
To go from traditional to over-the-top-fancy, make your way to the Ginza district — home to numerous Michelin-starred establishments. Sukiyabashi Jiro is famous for its sushi, but not as you've ever seen it before! This restaurant is the preserve of presidents and prime ministers, so brush up on sushi-eating-etiquette before you arrive. There are handy tips on the restaurant's website.
Fancy a fish-themed dessert? Watch through glass as the chefs at Taiyaki Wakaba prepare traditional taiyaki — blended red bean paste encased in batter in the shape of, you guessed it, a fish.
Where to shop in Tokyo
Shopping isn't necessarily cheap in Tokyo, but you'll find plenty of unique merchandise.
Here's just a handful of interesting shopping options, depending on what you're in the market for.
Head to Center Gai in Shibuya to scan the latest youth trends and follow the hordes of dolled-up teens to the iconic Shibuya 109.
For an eclectic mix of fashion styles, wander down the perpetually busy Takeshita Dori in Harajuku. However, if it proves too outlandish for you, then walk over to nearby Cat Street — a cute pedestrian strip lined with trendy boutiques.
If vintage is your signature style, scour the laneways of quirky Shimokitazawa, and stock up on the latest in electronic goods in Akihabara.
For high-end shopping, glossy Ginza is the place to be, or head to the super sophisticated avenue Omotesandō — Tokyo's equivalent of the Champs-Élysées.
Tokyo for history lovers
This may come as a surprise but Tokyo's history is relatively short compared to other world capitals.
Originally a small village called Edo, the Tokugawa shogunate established itself here in 1603, which served as the impetus for economic and population growth and the rapid expansion of the city. The shogunate ruled for more than 250 years before it was overthrown by Emperor Meiji, who restored imperial rule in 1868. Subsequently, the capital was moved from Kyoto to the newly named city of Tokyo — meaning 'Eastern Capital'.
To get more of the backstory, pay a visit to the extensive Tokyo National Museum.
Ways to relax in Tokyo
Despite the fast pace of life in the Japanese capital, pockets of tranquility do exist.
Head to the Shinto Meiji Shrine, a forested haven tucked away from the masses. Also visit the Tokyo Imperial Palace, the current residence of Japan's Imperial Family, located on the same site as Edo Castle.
Afterwards, pamper yourself at Oedo Onsen Monogatari — an onsen (hot-spring bath) that has been designed in the classic Edo-era style. To avoid any embarrassment, acquaint yourself with Japanese bathing customs before heading in!
Do you have any tips to add to our Tokyo travel guide? We would love to hear from you. Please leave a comment below.
Additional images: Bigstock/Photodune 
About the writer
Camha Pham is a freelance writer and editor who has recently swapped the cosmopolitan laneways of Melbourne for the sunny beaches of Perth. Struck with the wanderlust bug from an early age, she has travelled extensively through Asia, Europe, and parts of North America. When she isn't travelling, Camha is planning her next adventure and loves nothing more than the thrill of exploring new destinations and learning about other cultures. Travel highlights to date include chasing waterfalls in enchanting Iceland, hot-air ballooning over the lunar-like landscape of Cappadocia, and accepting a surprise marriage proposal from her now fiancé at the Fushimi Inari Shrine in Kyoto!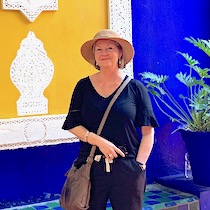 About the writer
Julietta Henderson is a Melbourne-based travel writer and author. Originally planning to visit London for six months, she ended up staying for ten years and now divides her time between her home in Australia and several months of the year in the UK, Italy, and France. Julietta has travelled extensively through Europe, North America, Indonesia, New Zealand, Australia, and Russia, and believes the keys to a great travel experience are an open heart, an open mind, and an open-ended ticket. Her first novel — The Funny Thing About Norman Foreman — is now available in bookstores.
keyboard_arrow_leftPrevious
Nextkeyboard_arrow_right