Tulum for history lovers
A visit to Tulum is a journey into the world of the Mayans — one of the ancient cultures most influential in defining the rise of western civilisation.
The Mayans built stepped pyramids to be closer to the stars and were skilled astronomers. They developed complex calendars, sophisticated mathematical systems, a written hieroglyphics language and were the first to cultivate cacao for chocolate!
Tulum, which means 'wall' in Mayan, was originally a walled centre that served as the port of the inland city of Coba (about 45 kilometres north-west). One of the most significant historic sites is El Castillo (the castle), located in the Archaeological Zone of Tulum overlooking the Caribbean Sea. The ruins here date back to the 13th century and are a must-see. Bring a good hat, sunscreen, plenty of water and your swimmers. There are steps from the castle down to the beach where you'll discover an intimate beach club without any minimum spend (apart from the entrance fee of 70 MXN/5 AUD).
The ancient city at Coba has gradually been released from the grip of the jungle. Ongoing excavation has revealed a network of stone thoroughfares and buildings dating back to around 600-900 AD. Try and get there when the site opens at 8am. You can beat the heat and you'll probably have the place almost to yourself. It covers a large area, so hire a bike and pedal your away around. Head to Nohoch Mul pyramid and climb the 120 steps to the top for views over the canopy of trees below. It's awe-inspiring.
Chichen Itza is the Yucatan Peninsula's most famous archaeological site, and takes around two hours to reach by car from Tulum. It's one of the most important surviving centres of the Mayan-Toltec civilisation and one of the Seven Wonders of the Modern World. The huge Kukulkan Pyramid (El Castillo) dominates the site. One of the most interesting temples is the observatory (El Caracol). Again, it's evidence of the Mayans' extraordinary astrological achievements.
Top cultural activities in Tulum
Mexican culture traditionally couples ancient Mayan heritage with European (mainly Spanish) influences.
That's evident in Tulum's growing street art scene (referred to locally as 'public art'), which blends ancient and modern themes in vibrant colour. Several of Mexico's best known street artists have work on display around town.
Tulum has a strong culture of environmental responsibility. Here, fragile ecosystems and socially responsible tourism businesses exist successfully side by side. The town is quite spread out and there are surprisingly long distances between the ruins, restaurants, and beach hangouts. Hiring a bike is a low cost way to get around and will minimise your impact on the environment.
To immerse yourself in the region's renowned beach culture, choose from the public beach (that stretches from Santa Fe to Mezzanine) or endless selection of private hotel beach clubs (most of which welcome day guests) that stretch further south. Beach clubs generally have a minimum spend for food and drinks, and you can enjoy their umbrellas and sun lounges as part of the deal.
Great places to eat in Tulum
The cuisine in Tulum will be one of the absolute highlights of your visit.
Octopus is almost always on the menu. Kitchen Table Jungle Kitchen does the simple char-grilled version to perfection in its open-air kitchen and rustic setting, enhanced by the thatched roof and surrounding national park. Bookings are taken up to one week in advance, for 6 or 9pm only.
Mateos Mexian Grill is lively and casual, and offers what they claim are the best fish tacos in the world. Try them and make up your own mind. This place is what Mexico and Tulum are all about: great food in relaxed surroundings, served by friendly and fun staff. At sunset, their happy hour is the place to be.
If you love Mexican food and think you've tried it all before, you haven't visited Cenzontle. Think traditional dishes with a twist and bold new flavour combinations. The pork ribs are great at the best of times, but coupled with peach compote and cinnamon, they're amazing!
Hartwood takes sustainability to the next level. Only solar power is used, all ingredients are sourced locally and waste is broken down, resulting in a zero-carbon footprint. If that doesn't float your boat, the menu certainly will. Each day brings a new selection based on what's readily available. Part of the experience is the anticipation of what will be served. Hartwood is open for dinner only.
Farm to table is a catchphrase used widely these days and Arca does is simply and elegantly. Wooden furnishings blend with the surrounding Mayan jungle to create a stunning dining space. This has to be one of the most interesting menus in Tulum. Try the seared quail with a mole of smoked Medjool date.
Burrito Amor is a cool cafe on the main drag, and as the name suggests, serves great burritos. They do an all-day breakfast and the scrambled egg burritos are filling and tasty. There are plenty of vegan and gluten-free choices. The coffee is good to boot.
El Camello Jr are known for their ceviche. It's one of the best you'll find anywhere. You could make a meal out of the complimentary homemade corn chips, tomato salsa and the amazing peas and chipotle (which looks like a chocolate sauce). This is a top spot for lunch.
Where to shop in Tulum
Those in the market for a hammock have come to the right place.
You'll find them in just about every store, and in every colour of the rainbow. Other than that, shopping is limited to handicrafts, souvenirs, and the like. There are markets and a few shops along the main street in town.
Francisco Mia is a small town on the way to Coba, and the main street is lined with galleries selling furniture, colourful hangings, ceramics and local art. You'll find a better choice of merchandise, at negotiable prices.
Ways to relax in Tulum
Relax and rejuvenate in the company of mother nature in and around Tulum.
It's well worth heading out to the Sian Ka'an biosphere reserve — a UNESCO World Heritage-listed site which covers over 528,000 hectares of interconnected marine, coastal and terrestrial ecosystems. The range of flora and fauna is staggering and includes monkeys, jaguar, and over three hundred bird species. Mayan ruins have also been discovered here.
From May to October, sea turtles come ashore around Tulum to lay their eggs and you'll see many roped off mounds with signs that read No tocar (do not touch)! Only one to two percent of hatchlings making it to adulthood. Do your bit: take your rubbish home with you and keep well away from the mothers coming up the sand and the tiny babies dashing for the sea.
Whale sharks migrate through the waters here in summer and snorkelling with these majestic creatures is an experience not to be missed. The water here is so clear that you can see every spot. However, resist the urge to reach out and touch the animals.
Take a break from the beach and enjoy a splash in some of the water-filled limestone cenotes (sinkholes) that dot the region. There are three cenotes located close to Coba, and they're the ideal way to cool off after trekking through the jungle (just be mindful of all safety signs). Descend the winding staircases down into the earth to swim in the crystal clear pools — some of which are up to thirty metres deep. Float blissfully on your back and gaze up at the stalactites dangling above.
And finally, happy hour is a longstanding tradition in Tulum and a great way to wrap up a hard day of sightseeing. After visiting the ruins on the cliffs, exit via the beach road and drop into Mezzanine for discounted margaritas. Sit out on the deck, or head down the steps near the bar and pull up a pew on the sand. There are also daily happy hour specials at El Pez and Ziggy's.
For more inspiration, visit www.visitmexico.com.
Browse our range of Tulum tours and experiences here.
Do you have any tips to add to our Tulum travel guide? We would love to hear from you. Please leave a comment below.
Additional images: Bigstock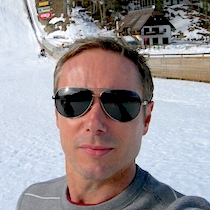 About the writer
As a travel blogger and photographer, Neil Brook travels the world looking to meet interesting people, taste great food, and find different angles from which to write about his adventures. He is privileged to have lived in Australia, the Philippines, Japan, Singapore, Thailand, Vietnam, and the United Kingdom. More a traveller than a tourist, Neil prefers to mix with the locals, learn their history and culture, and walk the backstreets to uncover hidden gems worthy of praise in words or quiet moments of private reflection.
keyboard_arrow_leftPrevious
Nextkeyboard_arrow_right