Washington, DC for history lovers
DC is a city of monuments to the leaders, heroes and periods in history that resonate deeply with all Americans.
One of the most visited is the Lincoln Memorial, honouring the giant of American Presidents. The statue of a seated Abraham Lincoln is over 6 metres high, surrounded by the enduring words of his Gettysburg Address. Lincoln stares out over the Reflecting Pool towards the obelisk commemorating George Washington — the first president of the newly united United States. It reaches almost 200 metres towards the heavens.
To complete Lincoln's chapter in history, head over to Ford's Theatre, the site of the President's fatal final public appearance on April 14, 1865. The theatre continues to perform works examining the political and social issues related to Lincoln's legacy.
Top cultural activities in Washington, DC
Begin your cultural fact-finding mission on the National Mall.
Here you'll find no less than nineteen Smithsonian museums and galleries, housing millions of priceless objects and artworks representing the past, present and future of this proud nation.
To get a close look at some famous aircraft, including the space shuttle Discovery, the jet-black SR-71 spy-plane and the Wright brothers' flyer, climb aboard the National Air and Space Museum.
Most of us have been educated in American culture by films and television. To find out more of the back story, visit the National Museum of American History. It's a timeline of America's development, with Old Glory (aka the Star Spangled Banner) proudly flying after a long restoration.
Finally, slow your pace at Arlington National Cemetery, the resting place of thousands of America's military. The Changing of the Guard at the Tomb of the Unknown Soldier and the eternal flame burning over the grave of John F Kennedy are humbling highlights.
Great places to eat in Washington, DC
Join political staffers at Ted's Bulletin on Capitol Hill for the all-day breakfast.
Ted's serves up fried eggs, sizzling bacon, hash browns, sausages, pancakes, and biscuits with gravy. Wash it all down with a peanut butter, chocolate and banana milkshake.
For lunch, head to popular Ambar. Order the locals' favourite — an open-faced sandwich with the fiery flavours of wild forest mushrooms, salami and goat's cheese, roasted bell peppers and horseradish, extinguished with rosemary-infused fresh lemonade.
Rated DC's top restaurant a number of times, Komi offers fabulous American/Greek cuisine, served as a set tasting menu. The menu features ten or so dishes with an emphasis on seafood. The price is $150 USD per person, but it's well worth the investment for a special night out.
Over at the Park Hyatt, the Blue Duck Tavern is a paddock-to-plate eatery, serving up sensational modern American. The restaurant features a contemporary interior with hand-carved wood furniture and a superb wine cellar. The flavours are bold, with most dishes prepared in the wood oven. Try the braised mussels in French onion broth. Sensational!
Where to shop in Washington, DC
To inaugurate your own presidency, White House Gifts has mock rooms from the White House set up for selfies.
Drink your morning coffee from a presidential coffee mug, turn heads with a set of Jackie Kennedy pearls, or pitch a baseball stitched with Ben Franklin's portrait. Shopping at this store is endless fun.
If your home needs a piece of vintage Americana, browse Miss Pixie's for antique and kitsch furniture, ceramics and art, sold according to their motto, 'stack it deep and sell it cheap'!
You'll need a new book for that long flight home, so drop into famous Politics and Prose — a book store where writers and poets deliver their finest oratory each evening.
Ways to relax in Washington, DC
To escape the steamy air of politics in town, make your way out to the National Arboretum.
The Arboretum's 167 hectares are home to a wide variety of flora, including maples, magnolias, roses and a 390-year-old bonsai tree. The distinctive reds, oranges and yellows of autumn/fall are particularly striking.
Nature lovers may also be interested in catching a glimpse of some of DC's amazing birdlife, including bald eagles, woodpeckers, colourful robins and elegant herons. The DC Audubon Society offers a wonderful guide to bird-watching in the region.
Where to stay in Washington, DC
The Hay-Adams
DC's best known historic hotel — The Hay-Adams — shares one of the most famous addresses in the world. It's located directly opposite The White House. The hotel has played host to the who's who of American politics, including President Obama the night before his inauguration.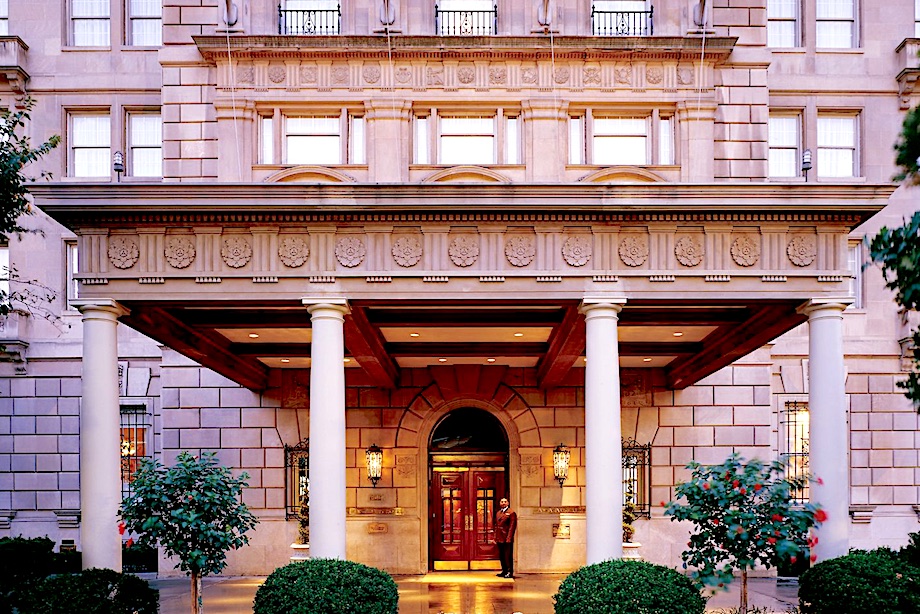 The Hay-Adams is housed in a fully-restored 1920s Italian Renaissance-style building. Decorated in traditional style, The White House View Junior Suites are a nice option, with their separate living spaces.
The Jefferson
The Jefferson is consistently rated DC's top luxury boutique hotel. The Deluxe Suites with their sweeping city views are one of the best value options in terms of size. Rooms feature king beds and Italian marble bathrooms.
It's the attention to detail that makes The Jefferson so special. The guest-only library has to be seen to be believed!
For more inspiration, visit www.washington.org.
Browse our range of Washington, DC tours and experiences here.
Do you have any tips to add to our Washington, DC travel guide? We would love to hear from you. Please leave a comment below.
Additional images: Bigstock
About the writer
Barry Johnson is a freelance travel writer living in Sydney, but with previous homes in Europe, North America, Asia, and the Middle East. His love of adventure led to getting lost in a Californian forest a week after The Blair Witch Project went viral, building a giant Buddha on a Cambodian mountain, camel racing in an Egyptian desert, and teaching English to Peruvian children as they taught him Quechuan — the language of the Incas.
keyboard_arrow_leftPrevious
Nextkeyboard_arrow_right