Browse all tours and experiences
Top cultural activities in Perth
Perth's diverse cultural scene encompasses everything from traditional fine art to popping street murals and public sculpture.
Start by delving into the collection at the fabulous Art Gallery of Western Australia in the Cultural Centre precinct in Northbridge. The gallery is particularly well known for its holding of Western Australian Indigenous art and Australian early to mid 20th century modernist works.
The Cultural Centre is also home to the State Library of Western Australia and the brand new, architecturally stunning WA Museum Boola Bardip. Boola Bardip means 'many stories' in the Noongar First People's language and is true to its name. The expansive collection is broadly categorised in three key themes, and then broken down into smaller exhibitions. It's well worth a visit.
On the other side of the CBD, the Elizabeth Quay development on the Swan River was unveiled to the eager public in early 2016 to fanfare and laser lights, and has added a whole new dimension to city life. The swirling metallic footbridge is the centrepiece of the precinct and links the promenades, Elizabeth Quay Island and the ferry terminal. The development seeks to reconnect locals with the Swan River through the expansion of waterfront entertainment and dining options. There are several pieces of public sculpture on display throughout the precinct, including First Contact by Noongar artist Laurel Nannup.
The importance of the Perth riverfront to the Noongar is explained during the fascinating 90-minute walking tour of Elizabeth Quay offered by Go Cultural Aboriginal Tours. Guests learn about the six Indigenous-recognised seasons and how they influenced the day to day lives of the Noongar, along with key aspects of local culture prior to European settlement. Go Cultural Aboriginal Tours also offers a guided walk through Kings Park.
A striking piece of public sculpture dominates the completed redevelopment of the precinct beneath Perth's Horseshoe Bridge (adjacent to Perth train station) — Yagan Square. While the new community space and dining hub is named after the tenacious leader of the Noongar people in the 1830s, the soaring statue of an Indigenous warrior is not Yagan himself. Titled Wirin, the sculpture was created by Tjyllyungoo Lance Chadd, Trish Robinson and Stuart Green, and represents the Aboriginal community's continuing spirit and creative power. Yagan Square's earthy tones, native plants and babbling water feature bring a sense of the bush into the CBD.
Perth's inner city network of arcades, laneways and back alleys has become a hub for amazing street art. If you walk around for long enough, you'll begin to recognise murals by the same artists in the most unexpected of places. In particular, keep an eye out for the bold and colourful work of local artist Anya Brock and the distinct marine animals by Amok Island. Don't miss the kaleidoscopic mural by Brooklyn-based artist Maya Hayuk in Wolf Lane. It's one of the city's most Instagrammed locations. A guided walking tour with Oh Hey WA will reveal more amazing street art-scapes.
Watch our video of this experience:
Welcome to The Big Bus tour and travel guide's YouTube channel. In this video, we join Oh Hey WA on a guided walking tour of fabulous Perth in Western Austra…
Perth for history lovers
The Perth CBD is an intriguing mosaic of the old and the new, and historic and contemporary buildings sit comfortably side by side.
Download one of the City of Perth's self-guided walking tour itineraries (there are six options to choose from) and take in heritage highlights like the medieval-inspired Barracks Arch, Perth Town Hall — the only town hall in Australia built by convicts, His Majesty's Theatre — the only Edwardian theatre in Australia still standing, The Perth Mint and The Cloisters — the first secondary school built in Western Australia.
Located adjacent to Elizabeth Quay, The Bell Tower is a contemporary structure — but what you'll find inside dates back to the 14thcentury. The twelve bells from St Martin-in-the-Fields church in London were recast several times over the centuries, before being gifted to Western Australia in 1988 to celebrate the country's bicentenary. Visitors can take part in the interactive Bell Tower Experience — a behind-the-scenes tour of the bell ringing chamber with a knowledgeable guide. It includes the opportunity to ring a bell yourself.
Museums dedicated to cities are not uncommon (the Museum of London sets the gold standard), but they're a bit of a rarity in Australia. Brisbane has one, and so does Perth. The Museum of Perth is located in the Atlas Building on The Esplanade (opposite Elizabeth Quay). It offers a changing schedule of specially curated presentations on various aspects of Perth's history.
The history lesson continues in the port city of Fremantle, which is located 30 minutes' drive south of Perth (and is also easily accessible by train or river cruise). Visit the Round House — the oldest public building in the state, and Fremantle Prison — which housed many notorious criminals, including bushranger Moondyne Joe.
Beautiful Rottnest Island is one of the region's premier tourist destinations (thanks largely to the quokka-selfie phenomenon), but it has a grim history. From 1838, thousands of Indigenous men were imprisoned here, and their labour was used to construct most of the buildings on the island. Five of the 3,700 prisoners are believed to have been hanged, while hundreds perished from disease or malnutrition. Today, the island is a haven for holidaymakers and can be reached by ferry from Perth or Fremantle.
Great places to eat in Perth
Expect to eat well during your stay in the Western Australian capital.
Hillarys Boat Harbour is one of the city's most popular dining precincts and offers something for everyone — whatever the time of day. Take a brisk morning walk along the beach, then settle in for breakfast at Dome Café. Enjoy fresh fish and chips for lunch on the grassy areas or by the beach. Afterwards, treat yourself to Cold Rock ice-cream before meandering along the boardwalk and climbing the lighthouse for the impressive views. End the day with an intimate dining experience at Ishka at The Breakwater, with its emphasis on the use of local produce.
For top-notch dining in the CBD, make your way to the stunning Victorian-era State Buildings — home to the COMO The Treasury luxury hotel and a number of superb eateries. Down in the shadowy catacomb-like basement you'll find celebrated Long Chim — the Thai-style eatery by celebrated Aussie chef David Thompson that has taken Perth by storm. Long Chim serves up sensational Bangkok street food inspired fare. Essential spices are brought in from Thailand and mixed with the freshest local produce. The restaurant now has siblings in Sydney and Melbourne and while Long Chim Perth may occupy one of the poshest addresses in town, it remains a very accessible dining experience — and one that everyone will enjoy.
More than a century ago, petitioners looking to bring about much needed social reform in Victorian Perth would march down St Georges Terrace to the Treasury on Barrack Street to publicly make their demands. The Barrack Street side of the State Buildings is now occupied by Petition. Comprised of an eatery, beerhall and wine bar, it's worth spending time in all three to soak up the atmosphere and enjoy the distinctive flavours on offer. Rustic, robust and roundly satisfying, Petition Kitchen is a must-try. Go the Arkady lamb rump, reared with low stress practices in Western Australia's idyllic South West.
Situated on the rooftop of the State Buildings, Wildflower is undoubtedly one of the most culturally significant eateries in Australia. Based on the six Indigenous-recognised local seasons, the menu of native modern Australian makes use of both cultivated and foraged ingredients, and combines them into edible works of art. Highlights include the emu smoked over jarrah embers with black truffle and charcoal crisps, and the finely balanced southwest marron with preserved pumpkin, finger lime, brown butter and black rice crisps. If you can't decide what to try, order the five-course tasting menu.
Over in Northbridge — the city's entertainment precinct — casual dining and a party atmosphere prevail. Settle in at The Standard — a standout for its innovative menu, lengthy drinks list and secret garden setting. Share flavourful plates of dips and bread at The Hummus Club, filo dumplings at Brika, or sweet and savoury subcontinental bites at Mela Indian Sweets and Eats. Kick back on the rooftop deck with a cocktail at the Mechanics Institute (the entrance is at the rear of the building).
Cafe culture is booming in the Western Australia capital and the following options are well worth seeking out during your visit.
La Veen Coffee
Popular La Veen Coffee is located at the northern end of King Street — Perth's destination for high-end fashion like Louis Vuitton, Bally, Miu Miu and Chanel, and local favourites Zomp, Cult Status and Alpha 60. The cafe serves Five Senses coffee, along with an impressive array of baked goods and more substantial fare. The combination of exposed brick and sleek tongue and groove timber give a nod to this café's historic location. 90 King Street, Perth
Toastface Grillah
Tucked away in graffiti-haven Grand Lane (and four other locations), Toastface Grillah is renowned for killer toasted sandwiches and coffee to match. Don't miss the chance to kick back at this Perth institution and enjoy sanger combinations like brie cheese, zucchini and prosciutto (Danny Zuccho) or blue cheese, pear and lime chutney (Pear Grillz). Grand Lane, Perth
DuoTone
The bright yellow stools at DuoTone act as a beacon for those in need of a good coffee. DuoTone deftly delivers 7 Seeds coffee to its communal tables. There's also a window nook where you can curl up with a few of the modern upholstered throw pillows, sip your latte and dream that this is actually your kitchen. Try the minimalist menu of well thought out breakfasts on offer, along with other gourmet delights like locally produced Bahen & Co chocolates. 313 Hay Street, East Perth
Mary Street Bakery
Walking into Mary Street Bakery at Highgate is like entering the warehouse apartment you've always dreamed of owning. Hipster waitstaff serve up coffees made with beans from local artisan roaster Pound. If it's busy (which often happens on weekends), queue up along the bakery case. You're sure to spot (and probably buy) a legendary salted caramel doughnut. 507 Beaufort Street, Highgate (and three other locations)
Gordon Street Garage
As the name suggests, the Gordon Street Garage had a previous life as an automobile workshop. It's fitted out with industrial light fittings, exposed HVAC, and has retained the original architecture of the garage including the skylights. With its peppy music and relaxed vibe, you can choose indoor seating or opt for the smaller outside area. Gordon Street Garage serves Mano a Mano beans, harvested from ethically sourced micro lots and roasted on site. It's also open in the evening, with a full dinner menu worth the walk from the city. 16 Gordon St, West Perth
Cafe reviews: Gayann Walker
Where to shop in Perth
Not content with the usual single CBD pedestrian shopping mall, Perth has two: the Hay Street and Murray Street Malls.
The usual range of retail suspects are split between the two. If that's not sufficient to satisfy your retail cravings, very conveniently, there's a train staton (Joondalup) right at the entrance to Lakeside Joondalup — Western Australia's largest shopping centre. It's home to more than 300 retailers, including department stores, specialty shops, food outlets and more.
For high-end fashion, the aforementioned King Street is the place to be. It's lined with restored shopfronts from the early 20th century that now house a variety of luxury labels.
Those in the market for some serious bling have come to the right part of the world (well, 2,200 kilometres south of the right part, but in the same state at least). Broome-based Willie Creek Pearls farms the famous Australian South Sea pearl and visitors to Perth can attend a Pearl Masterclass at the company's new showroom in Elizabeth Quay. Learn more about the pearling process, witness the birth of a pearl, taste pearl meat and wash it down with a glass of bubbles. The ticketed class is offered daily.
For a more casual retail ambience, head for the famous Fremantle Markets. Be tempted by the farm-fresh produce and tasty treats, fashion and accessories, Indigenous art, and souvenirs and trinkets on sale from the many indoor stalls. Wind down after your market shopping spree with a cold beer and a bite to eat on the balcony of the Sail and Anchor pub and brewery. It overlooks the street where buskers perform on weekends.
Ways to relax in Perth
No Perth travel guide would be complete without mention of the city's spectacular beaches.
Cottesloe Beach is probably the most popular, but there are plenty of others to choose from — including Scarborough Beach, Sorrento Beach and City Beach.
Closer to the city centre, a riot of colour from wildflowers in bloom enhances a leisurely stroll through Kings Park. It's one of the biggest inner-city parks in the world (eclipsing even Central Park in New York City). The expansive green space is made up of lush gardens, manicured lawns and scrubland bush, and is home to lots of native flora and fauna. Wander the extensive network of nature trails and honour our fallen service personnel at the State War Memorial. You can also climb the spiralling DNA tower and follow the popular Federation Walkway treetop walk for amazing views of the sleek city skyline.
Often overshadowed by renowned Margaret River, the Swan Valley is actually Western Australia's oldest wine-producing region. It's located just a 25-minute drive from Perth's city centre and a 10-minute drive from the airport. The region is compact and follows a winding loop, along which you'll find myriad award-winning wineries, restaurants, breweries and distilleries. Wine tours from the city are a great way to explore.
Other amazing day trip destinations that are within easy reach of the Western Australian capital include the coastal enclave of Mandurah, Nambung National Park and the fascinating Pinnacles Desert, and the picturesque Perth Hills — home to a plethora of hiking and biking trails.
Wind down at the end of a hard day of sightseeing at one of the city's eclectic small bars. The Western Australia State Government began issuing small bar licences in Perth back in 2007. The result is a dynamic inner-city social scene that continues to go from strength to strength. Join an evening walking tour with Two Feet and a Heartbeat to three contrasting venues, including the likes of stylish Andaluz Bar and Tapas on Howard Street and super cool Cheeky Sparrow off Wolf Lane (the venues change regularly).
Alternatively, you can just fly solo and see where the wind takes you. Kick things off at The Flour Factory, which occupies three levels of a century-old flour mill. There are one hundred different gins on offer in the main bar. Spin the gin wheel and the one you land on is the one you get!
Where to stay in Perth
Crown Towers
A stay at Perth's fabulous Crown Towers is like opening a giant box of chocolates and climbing right on in. Every detail is sumptuously presented, richly coloured and oh so deliciously sweet. The Crown mega complex (consisting of three hotels and a casino) is located in Burswood at the eastern end of Perth proper, but on the far side of the Swan River. That presents some challenges for those wanting to spend their time in the CBD. The new Matagarup Bridge now links the new Perth Stadium with the city, but the walk from Crown will still take you about 45 minutes. Taxis or Uber are the only real options.
However, many who come to stay at Crown Towers just won't want to leave! Despite the fact that this is the largest hotel in Perth (with 500 guest rooms and sets of expectations to manage), Crown Towers manages to impress at every turn. From the epic city views from many rooms, to the stylish interiors, incredible bathrooms, tablet-controlled technology (including automatic curtains — just in case you're wondering where the cord is to draw them), acclaimed restaurants and bars, and a mind-blowing resort style pool, this city hotel experience is probably unparalleled anywhere in Australia.
Treat yourself to the lunchtime buffet (à la Las Vegas and Dubai) at in-house eatery Epicurean at least once during your stay. If you have Crystal Club lounge privileges, you can segregate yourself from the hoi polloi for breakfast and canapes and drinks at sunset.
Peppers Kings Square Perth
Located on the northern edge of the city grid, opposite the Kings Square development and just a stone's throw from Yagan Square and nightlife precinct Northbridge, Peppers Kings Square Perth has brought boutique luxury hoteling to the Western Australia capital. The compact foyer area combines industrial chic and neutral tones. Reception and the bar are one and the same. The ground floor also houses The Stage Bar and Grill, which offers a modern menu of delicious delights.
Up on the guest floors you'll find spacious suites with large picture windows, contemporary finishes, minimalist bathrooms, and mini bars stocked with local specialties. The complimentary brownies on arrival are a nice touch. As night falls, the city lights turn on a stunning show — best seen from the south-facing side of the building. It's well worth requesting a city view room.
Tribe Perth
Over in West Perth (opposite Kings Park), Tribe Perth has reinvented what a hotel stay means to most of us. There's a touch of the Austin Powers about this hip haven. And while it's targeted squarely at today's young urban traveller, any age group will enjoy the experience.
Upstairs, each modular-sized guest room comes complete with the supremely comfortable signature Tribe bed (if you love the throw, you can pick one up at the front desk), contemporary finishes, glass-walled bathrooms, smart TVs and free Wi-Fi. Downstairs, the communal space is designed to draw guests out of their shells. It includes a lounge area, a small library, work zones and the Tribe bar and dining room, which offers an a la carte menu with a handful of well executed mains (try the delicious fish and potato pie), and a selection of readymade meals and salads. The boutique breakfast of baked eggs, French-style pastries and freshly squeezed OJ is totes da bomb.
Top Oz Tours travelled as a guest of Crown Towers, Peppers Kings Square Perth and Tribe Perth.
Browse our range of Perth tours and experiences here. We offer a Best Price Guarantee and COVID-19 Cancellation Guarantee.
Do you have any tips to add to our Perth travel guide? We would love to hear from you. Please leave a comment below.
Cover image: Tourism Western Australia. Additional images: Bigstock
About the writer
Tania Connolly is a freelance writer living in Perth. She loves travelling with her husband and young children, and the family regularly heads to beautiful Coral Bay on the Ningaloo Coast. They have also spent time exploring WA's South West region, including Margaret River, Dunsborough, Busselton and Bunbury.
About the writer
Camha Pham is a freelance writer and editor who has recently swapped the cosmopolitan laneways of Melbourne for the sunny beaches of Perth. Struck with the wanderlust bug from an early age, she has travelled extensively through Asia, Europe and parts of North America. When she isn't travelling, Camha is planning her next adventure and loves nothing more than the thrill of exploring new destinations and learning about other cultures. Travel highlights to date include chasing waterfalls in enchanting Iceland, hot-air ballooning over the lunar-like landscape of Cappadocia and accepting a surprise marriage proposal from her now fiancé at the Fushimi Inari Shrine in Kyoto.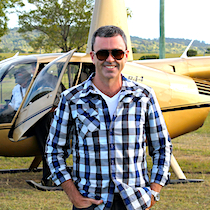 About the writer
Adam Ford is editor of Top Oz Tours, and a travel TV presenter, writer, blogger, and photographer. He has travelled extensively through Europe, Asia, North America, Africa, and the Middle East. Adam worked as a travel consultant for a number of years with Flight Centre before taking up the opportunity to travel the world himself as host of the TV series Tour the World on Network Ten. He loves to experience everything a new destination has to offer and is equally at home in a five-star Palazzo in Pisa or a home-stay in Hanoi.
keyboard_arrow_leftPrevious
Nextkeyboard_arrow_right