The discovery of gold near Ballarat in 1851 led to a dramatic transformation of the small Victorian settlement.
In little more than a decade it became an aspirational regional city with grand hotels, theatres and galleries. Today, Ballarat is famous for its period architecture and rich colonial heritage. With a thriving arts scene, great eateries and prized gardens to explore, this destination has plenty to offer visitors — and is easily reached by road or rail from Melbourne.
Here are ten of the best things to do in Ballarat.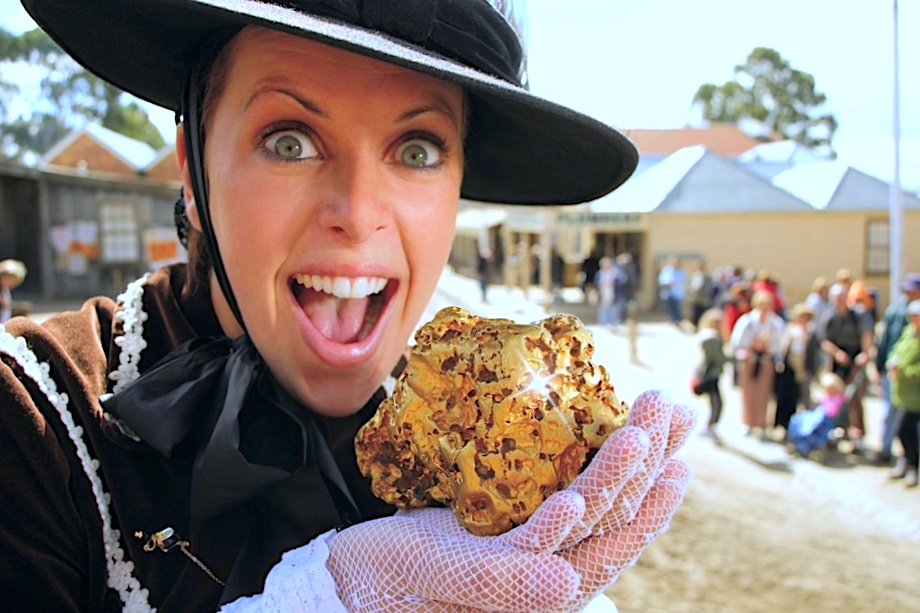 1. Travel back in time on a walking tour
As a consequence of the Gold Rush and the wealth it brought to the city, Ballarat offers no end of opportunities to step back in time — thanks to its stunning Victorian-era architecture. Put on your walking shoes and join Ballarat Heritage Tours on a guided stroll around the city centre. Local historian Andrew Sharpe leads the 90-minute tour, which focuses on historic Lydiard Street and the heritage railway precinct that surrounds Ballarat train station.
2. Explore the story of the Eureka Stockade
A million ounces of gold was extracted from the Ballarat goldfields, yet very few miners actually got rich. Most found nothing. The harsh conditions, lawlessness on the goldfields and widespread corruption helped trigger the famous Eureka Stockade rebellion. In 1854 a group of miners took up arms against the colonial government over the high cost of mining licences. The only armed civil uprising in Australian history was quelled by soldiers in just over 15 minutes. The original Eureka flag is on display at the Eureka Centre, which is situated in the Eureka Stockade Memorial Gardens in Ballarat East.
3. Spend a day at Sovereign Hill
Learn more about life in the goldfields at award-winning Sovereign Hill. This historical town recreation has been transporting visitors back to 1850s Ballarat for more than 40 years. It's one of Victoria's premier tourist attractions. The open-air museum features realistic streetscapes, shops and eateries, manned by costume-clad staff. Try your luck at panning for gold, ride in a horse-drawn wagon or take an underground mine tour.
The Sovereign Hill experience continues after dark with Aura — a night time show, which was launched in 2019. A series of spectacular projections trace how gold 'changes everything' — from the creation story of the Wadawarrung (the region's First People), through to the Eureka rebellion.
4. Admire the work of the Australian Impressionists
Culture vultures should head for the Art Gallery of Ballarat — one of Australia's oldest and largest regional galleries. It houses a wonderful collection of 19th and 20th century Australian, British and European art. Don't miss seeing the gallery's holding of works by the Australian Impressionists, including Streeton, Dobell, McCubbin, Heysen and Roberts. The gallery's free guided tour is a must-do.
5. See a show at 'Her Maj'
Ballarat's main venue for live performance is the beautifully preserved Her Majesty's Theatre, which first opened its doors in 1875. The annual programme at 'Her Maj' encompasses everything from musical theatre and ballet to jazz and classical music. It's worth booking a ticket just to see the splendid period detail inside the building!
6. Dine in old world splendour
Craig's Royal Hotel is one of Ballarat's most famous landmarks and has hosted many a famous guest in its day. Even if you're not staying at the hotel, it's worth splashing out on a meal in the splendid surroundings. The Gallery Dining Room offers a sophisticated lunch and dinner menu. Tarry over a glass of wine or a cocktail afterwards in Craig's Bar.
7. Enjoy a top tipple
Ballarat has plenty of other characterful bars to choose from. Tucked away in a quiet lane, Hop Temple is a firm favourite with local beer aficionados. It offers dozens of brews from around the world, both on tap and bottled.
Wine lovers should drop by the chic Mitchell Harris wine bar. Make your selection from the substantial wine list of local and international drops, including Mitchell Harris' own vintages. There's also an extraordinary collection of rare wines available from the cellar, which have been collected from all over the world over more than 20 years. They're all available for purchase if you have the cash to splash.
When only a G&T will do, make your way to Kilderkin Distillery — the home of Larrikin Gin. The tasting experience showcases six gins, ranging from the classic London Dry to the uniquely Australian Sunburnt Country (infused with 'bush tucker' botanicals). The friendly staff offer informal distillery tours and will be happy to explain the gin making process.
8. Shop at the markets
Get a taste of the region's fabulous fresh produce at the Ballarat Farmers Market, which is held on the 2nd and 4th Saturday of the month. The market brings many farmers to town and is a great way to mix and mingle with the community.
9. Meet PMs past in the Ballarat Botanical Gardens
Part garden and part outdoor gallery, the Ballarat Botanical Gardens are superb. The 40 hectare gardens are renowned for their many statues — including Prime Minister's Avenue, which features bronze busts of every Australian prime minister since federation (although the city is struggling to keep up with the recent turnover of PMs). Twelve Carrara marble statues — gifted to Ballarat by wealthy local Thomas Stoddart in 1884 — are dotted throughout the gardens.
Other highlights include the giant redwoods, the rose garden, the statuary pavilion and the lovely Robert Clarke Conservatory with its stunning seasonal floral displays. Guided tours are offered on Sunday mornings courtesy of Friends of the Ballarat Botanical Gardens. Volunteer guides share their knowledge of the gardens and spin some good yarns about those who made the gardens what they are today.
10. Walk around Lake Wendouree
Opposite the Botanical Gardens, Lake Wendouree is another of Ballarat's treasured outdoor spaces. In 1956 the lake was home to the rowing, canoeing and kayaking events of the Melbourne Olympic Games. The famous Olympic rings are still on display here 60 years later. The six-kilometre circuit around the lake is popular with joggers and those who prefer a sedate stroll.
For more information, visit www.visitballarat.com.au.
The writer travelled as a guest of Ballarat Heritage Tours.
Do you have any suggestions to add to our list of the best things to do in Ballarat? We would love to hear from you. Please leave a comment below.
Additional images: Bigstock
About the writer
Louise Reynolds made up her mind at the age of about four that she would one day travel the world — and has so far visited around 30 countries across five continents and the Pacific. A hopeless Francophile, she has a particular love for France, its language and pretty much all things French. Louise's favourite way to see the world is on foot and her boots have taken her walking on famous trails in Europe, South America and New Zealand. She also has a passion for her home state of Victoria and loves exploring its diverse regions.
keyboard_arrow_leftPrevious
Nextkeyboard_arrow_right