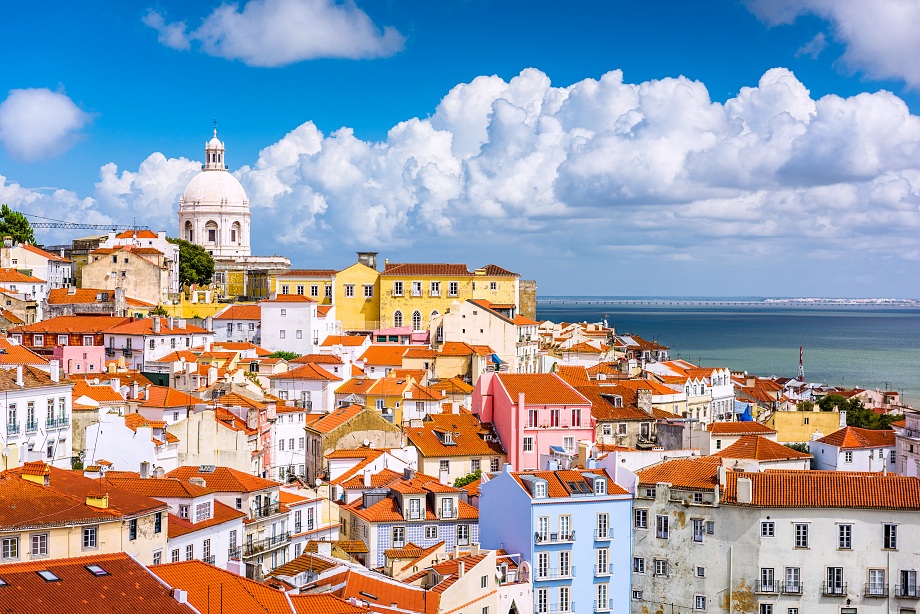 With stunning scenery, rich history, and perhaps the friendliest people in the world, Portugal is hitting the radar of travellers far and wide.
While fascinating capital Lisbon is at the top of every visitor's to-do list, there's so much to see in regional Portugal — so leave enough time in your itinerary to venture further afield. Hiring a car will allow you to explore at your own pace and discover endless hidden gems along the way. Head online to research the best car hire prices in Portugal from Enjoy Travel and find a deal that suits your needs.
Here's a checklist of ten top things to do in Portugal on a first visit.
1. Visit the Douro Valley vineyards
Trying port wine is a given on any trip to Portugal, and the best place to do it is in the stunning Douro Valley — home to hundreds of vineyards and wineries. If you are staying in the northern city of Porto, you can reach the Valley by taking a cruise up the Douro River from Vila Nova de Gaia and returning by train. Alternatively, book a guided wine tour and let someone else take care of the logistics.
2. Pay a visit to Portugal's birthplace
Guimarães is often referred to as Portugal's birthplace. It was the country's former capital and the city where Portugal's first independent king — Afonso Henriques — was born. The historic architecture here dates back to the 10th century and includes a medieval castle, several churches (such as the famous Igreja de São Francisco — clad with Portugal's famed blue and white tiles), and the Alberto Sampaio Museum. Here you can view an extensive collection of religious art. Guimarães is located 50 minutes' drive northeast of Porto.
3. Join the celebration of the saints
If you find yourself in Porto or Lisbon in mid-June, you may find it hard not to get caught up in the festivities of Saint John and Saint Anthony respectively. The tradition of celebrating each city's patron saint is alive and well. Locals pour out onto the streets on festival night to barbecue sardines, enjoy live music performances and fireworks displays, and party long into the night.
4. Try Portugal's original custard tart
You can barely walk a few metres in this country without seeing rows of delicious looking Portuguese custard tarts — pastéis de nata — staring back at you from a café window. However, the original Portuguese tart is actually the Pasteis de Belém, which originated in its namesake district just outside Lisbon's city centre. Creamy on the inside and flaky on the outside, these tarts can impress even the most savoury palate.
5. Step back in time at Evora
The walled medieval city of Evora is a UNESCO World Heritage-listed site and can be visited as a day trip from Lisbon. The Praça do Giraldo (Giraldo Square) sits at the heart of the city and boasts wonderful gothic architecture and a bustling café scene. However, it has a dark past (the Square served as an execution ground during the Spanish Inquisition). Evora is also home to a Roman temple dating back to the first century BC.
6. Explore Portugal's majestic coastline
As Europe's westernmost country, Portugal is blessed with long stretches of beach and dramatic shoreline cliffs. The Algarve region in the south rates highly among beach-loving locals and foreigners alike, however more secluded and equally beautiful beaches can be found in the Alentejo region closer to the centre. Just a heads up — Portugal's coastal waters are known to be nippy all year round, so expect your dips to be brief and refreshing!
7. Indulge in top-notch seafood
Portugal is a haven for seafood lovers. In coastal areas like Matosinhos in Porto, you'll find rows of barbecues along the footpath where the day's catch is cooked over smoking coals. Make sure you try gooseneck barnacles — a juicy national delicacy scraped from rocks and nicely matched with a Portuguese vinho verde (green wine).
8. Ski in Serra da Estrela
With its many beaches and Mediterranean climate, Portugal is generally considered a summer playground. However, if you head inland, you'll find the country's highest mountain range, Serra da Estrela, complete with a winter ski resort. The surrounding national park is the largest protected natural area in Portugal and features a series of marked hiking trails.
9. Listen to fado
Fado is a style of traditional Portuguese music, which dates back to the nineteenth century. The genre is known for being intensely emotive, and songs typically convey feelings of hardship and loss. A Fado performance usually consists of a vocalist (male or female) and a small stringed ensemble, and shows are staged in many Portuguese bars and restaurants.
10. Island hop in the Azores
The Azores is an autonomous region of Portugal, made up of nine islands surrounded by the clear blue water of the North Atlantic Ocean. Here you can cycle, hike, surf and kayak. The islands are also famous for bird and whale watching. A number of airlines fly to the Azores from Lisbon and Porto, and ferry services operate between the islands.
Do you have any suggestions to add to our list of the top things to do in Portugal on a first visit? We would love to hear from you. Please leave a comment below.
Additional images: Bigstock
About the writer
Emily McAuliffe is an Australian travel writer and photographer based in Portugal. Her work has featured in a wide range of publications, including Qantas and Jetstar's inflight magazines, Get Up and Go, and Women's Fitness. Visit Emily's blog for more inspiring Portuguese travel stories.