Edinburgh for history lovers
History buffs, there is quite literally no end of ways to step back in time in Edinburgh — so prepare yourself for a busy holiday!
For more than 1,000 years, Scottish monarchs surveyed their kingdom from Arthur's Seat in Holyrood Park. It's a 1.5-hour hike up to the top of the dormant volcano. See the impressive ruins of St Anthony's Chapel, or spy on pedestrians in the city beneath your feet.
Next, pay a visit to Holyrood Palace — the Queen's official home away from home when in Scotland. From there, you can take a regal stroll up the Royal Mile. It's crowned by Edinburgh Castle — the medieval fortress that still stands strong (the oldest section dates back to the 1100s). See ancient relics inside, including the Stone of Destiny — which was restored to Scotland from Westminster Abbey in 1996. A guided walking tour will help you get the most from your visit.
You can put faces to the names you'll hear about at the castle by visiting the Scottish National Portrait Gallery. Meet Mary Queen of Scots, historical novelist Sir Walter Scott, and Tom Derry — jester to Queen Anne of Denmark.
In addition to Hollyrood Palace, Edinburgh is home to one of Her Majesty's former abodes — the spectacular Royal Yacht Britannia, which is moored just north of the city in Leith. Launched in 1953 and finally decommissioned in 1997, Britannia was built in Scotland and travelled more than a million nautical miles during her time in service. The ship is now open to the public and provides a fascinating insight into royal life. See the living areas, the very modest bedrooms, the Queen's office, and the State Dining Room. The teak lined Sun Lounge was reputedly one of the Queen's favourite spots on board.
For a lighthearted take on local history, head to The Edinburgh Dungeon. Crooked judges, dodgy doctors, toothless crones, petty thieves and pious priests all transport you back through the centuries with their entertaining tales.
Top cultural activities in Edinburgh
Begin your foray into Edinburgh's cultural scene by witnessing one of the greatest military spectacles in the world.
The Royal Edinburgh Military Tattoo is performed throughout August in front of Edinburgh Castle. The choreographed mix of stirring music, precision marching, dance and special effects is mind-blowing. The Tattoo is always a sell-out, so book well in advance.
While the military elite march in step at the Tattoo, civvies turn out in droves for the annual Fringe festival, also held in August. Former performers at the festival, now world-famous after their Fringe gigs, include Rowan Atkinson, Craig Ferguson and Jo Brand.
There are actually no less than six festivals running concurrently in Edinburgh in August, including the International Festival and the International Book Festival. It's a fabulous time to be in town, but book your accommodation well in advance!
Great places to eat in Edinburgh
For a beverage to carry the name of a nation, it has to be something special.
Judge for yourself at the Scotch Whisky Experience, where guests learn about the process involved in creating every precious drop of the drink that has become a cultural icon. While you're there, adjourn for lunch at Amber Restaurant and Whisky Bar. They do a tasting menu of seasonal local specialties, including haggis bon bons and raspberry cranachan, washed down with a 'wee dram'.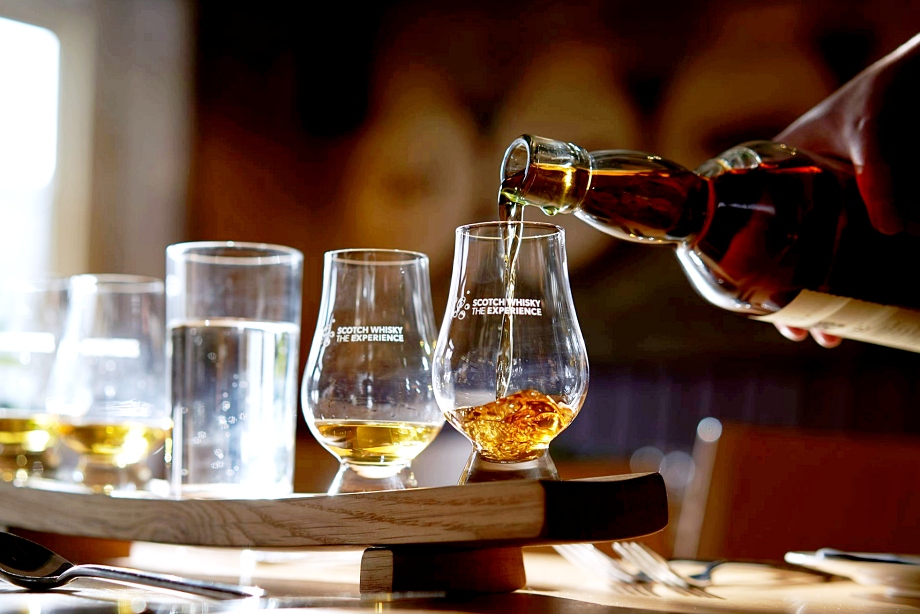 If two's all the company you want for dinner, drop by diminutive Dubh Prais under the Royal Mile and enjoy the likes of Aberdeen Angus beef, butterscotch terrine, and a traditional Atholl Brose dessert (homemade ice cream with Drambuie and toasted oats).
A grand occasion is best celebrated at The Witchery by the Castle — one of Scotland's most famous, and elaborately furnished, restaurants. Drink in the baroque splendour and feast on fine produce from across the country.
Where to shop in Edinburgh
Time for a spot of ye olde retail therapy in historic Grassmarket — the liveliest street in the medieval Old Town.
A market is held here every Saturday from 10am. Shop for farm fresh produce and artisanal wares, and enjoy the street food, live music and magic shows.
London has Harrods; Edinburgh has Cranachan & Crowdie, which offers unique Scottish wares for the canny souvenir hunter. Pick up thistle-shaped shortbread, tweed tablet covers and highland woollen tea cosies.
Ways to relax in Edinburgh
Enjoy a memorable meander at Jupiter Artland — an outdoor art gallery where intriguing pieces dot the landscape.
Dozens of artists have contributed works to the sculpture park, which is set amongst ancient willow, oak and juniper trees in the grounds of a former Jacobean manor house.
If you're one of those travellers who finds relaxation in physical exertion, check out Mad Max Adventures. Chart a course across rural terrain by quad bike or 4WD, compete in a tournament of highland games, or go on a wild goose treasure hunt! If you master the art of caber tossing, contact the Guinness Book of Records. The current record (set by a Canadian!) is a warrior-worthy 14 tosses in three minutes.
Experiencing the exquisite windswept beauty of the Highlands is a must on any visit to Scotland. If you're short on time, legendary Loch Ness can be done as a day trip from Edinburgh. Spend less time looking at maps and more time admiring the stunning scenery by doing an organised tour.
For more inspiration, visit www.edinburgh.org.
Browse our range of Edinburgh tours and experiences here.
Do you have any tips to add to our Edinburgh travel guide? We would love to hear from you. Please leave a comment below.
Additional images: Bigstock
About the writer
Barry Johnson is a freelance travel writer living in Sydney, but with previous homes in Europe, North America, Asia, and the Middle East. His love of adventure led to getting lost in a Californian forest a week after The Blair Witch Project went viral, building a giant Buddha on a Cambodian mountain, camel racing in an Egyptian desert, and teaching English to Peruvian children as they taught him Quechuan — the language of the Incas.
keyboard_arrow_leftPrevious
Nextkeyboard_arrow_right