At night the twinkling lights of Queenstown cascade down the lower reaches of the majestic Remarkables towards Lake Wakatipu like baubles on a quintessential Christmas tree.
While it's renowned as New Zealand's ski and adventure capital, Queenstown offers an effortless charm and understated sophistication that will appeal to just about anyone. From the stunning natural setting to the chalet-style architecture, cosmopolitan food and wine scene and a healthy serving of cultural attractions, there really is something for everyone here. Two million visitors a year can't be wrong.
For adrenalin-junkies looking to take full advantage of the high-octane, thrill-seeking, bone-jarring action on offer, you'll need a holiday budget that stretches further than a bungee cord over the Kawarau Gorge. There are lots of options. Just remember to leave enough time to join the mix of more sedate holiday makers down on the waterfront, gazing out at the impossibly blue waters of Lake Wakatipu. Sometimes the best things in life are indeed free.
Enjoy this Queenstown travel guide.
Top cultural experiences in Queenstown
Located in the Otago region on New Zealand's South Island, Queenstown is a year round holiday hotspot.
Summer is peak season, while in winter the town fills with skiers and snowboarders, predominantly from Australia. To avoid the crowds, consider a spring or autumn visit. You'll have more room to move, and you can enjoy the dramatic changing of the seasons. Most of the activities mentioned in this Queenstown travel guide operate all year.
Summer or winter, the town's cultural psyche is first and foremost that of an adventure lover's playground and as mentioned, there's a serious 'to do' list.
Whatever your age, you should give at least one or two activities a go, just to get into the gnarly vibe. AJ Hackett's Original Bungy Jump over the Kawarau River is an iconic option, but for something slightly less extreme, book a seat on Shotover Jet's jet boat ride along the twisting Shotover River. Jet boats are a New Zealand invention and this activity will see you ducking and weaving through the narrowest of ravines and gorges. It's fast, furious, fun — and wet!
Watch our video of this experience:
Welcome to The Big Bus tour and travel guide's YouTube channel. Queenstown on New Zealand's South Island is renowned as the country's adventure capital. What…
We won't go into winter-specific activities here, but for information on the four ski fields within easy reach of town, Queenstown Tourism's website is a good place to start.
For more traditional cultural pursuits, there's no artist alive who wouldn't find Queenstown's natural setting inspiring. Black ZQN offers a private art tour to meet some of the region's best known artists — visiting them at either their private studios or commercial galleries. You can of course head out on your own. Thomas Brown welcomes visitors at his Lake Hayes studio/gallery — an old converted cheese factory. Landscape artist Graham Brinsley has a studio in Arrowtown, and while you're there, check out the petite Nadene Milne Gallery. It holds some extraordinary pieces of contemporary art.
Back in Queenstown itself, the Ivan Clarke Gallery will appeal to all age groups. Not only are Clarke's landscapes truly breathtaking, but his Lonely Dog franchise is doing big things around the world. There's a book out, and potentially a movie to come.
Down on the waterfront, Artbay Gallery represents around 50 award-winning New Zealand artists. There are two locations. Check the website for special events during your stay.
Queenstown for history lovers
Formed by glacial forces which date back thousands of years, Lake Wakatipu is big, deep and cold.
The Māori are known to have visited the region prior to European settlement in search of Pounamu (Greenstone). Queenstown's magnificent lakeside location was chosen by colonial grazier William Rees, originally as a base from which to run sheep. You'll see an imposing statue of Rees down by the waterfront.
Gold was discovered in the Shotover River in 1862 and the tiny outpost boomed. Fortunes waxed and waned throughout the 20th century. The ski industry started to take shape in the 1950s, while the summer adventure industry really took off in the 80s with the arrival of AJ Hackett. The rest, as they say, is history.
For top things to do in Queenstown that will give you more of the backstory, pay a visit to nearby Arrowtown to explore the region's Gold Rush roots. The heritage main street has been exceptionally well preserved. Rent a gold pan from the excellent Lakes District Museum and head down to the Arrow River behind the town to seek your fortune. And if you don't believe there's gold to be found — call in to The Gold Shop to view the priceless nuggets that have been discovered locally.
Great places to eat in Queenstown
Foodies will absolutely adore this destination.
Queenstown's culinary scene is full of creativity, innovation and enthusiasm. You will find standards high and complacency low, which is a refreshing change from many predominantly tourist centres. Here are a few of the highlights.
Make your way to Madam Woo for MSG-free Malaysian hawker-style cuisine with a twist. This is a top spot for lunch or dinner, and the restaurant makes use of free range pork and chicken where possible. The Hawker Rolls are a tasty highlight.
For seafood lovers, Fishbone is your oyster. From Bluff oysters to Fiordland crayfish and the restaurant's signature whole flounder (roasted in brown butter, lemon, parsley and capers), you can't go wrong here. The service is fast and friendly.
Watch our Queenstown travel guide for Sky News Business Class:
Adam Ford, editor of The Big Bus tour and travel guide and host of Tour the World, regularly joins the team at Sky News Business Class to discuss top travel destinations around the world. In this interview Adam provides tips on visiting spectacular Queenstown.
You just know you're in for something special at Sherwood, located a few minutes' drive from the centre of town. This upcycled motel complex with a conscience is well worth considering as a place to stay, but the onsite eatery is an absolute must. Don't miss this. There's a very strong emphasis on local produce, inventive pairings of ingredients — many of which you may never have even heard of, and impeccable presentation. The wine map (as opposed to the traditional wine list) is very nifty.
Back in town, and with a series of antique meat cleavers adorning the wall above the bar, there's no mistaking the upmarket Botswana Butchery's emphasis on carnivorous fare. The hearty, slow-cooked French onion soup will warm the cockles on a crisp Queenstown day.
For stylish dining, impeccable service and a superb wine list, Rata is a top choice. Tucked away in the heart of town, you'll enjoy Michelin-starred celebrity chef Josh Emett's take on slow cooked southern New Zealand classics. Even the humble cheese roll gets a guernsey. Try the tender belly and shoulder, with Cromwell peaches, radish pods and parsnip cream.
Fergburger is a local institution. The burgers are sensational, and there are generally queues down the street to prove it. If you don't want to spend your evening lining up in famished formation, park yourself at a bar and head to Fergburger after 9pm. You'll still have to wait — just not as long.
Where to shop in Queenstown
If you're in the market for hiking boots, outdoor equipment and adventure wear — Queenstown is your retail nirvana.
There's a myriad of stores across town. The mountain bike hire outlets convert to ski and snow-board hire in winter.
For those interested in fashion beyond what to wear into the wild blue yonder, there are plenty of clothing boutiques (although surprisingly, very few international brands). Try the Queenstown Mall to begin with.
For souvenirs, don't miss the Creative Queenstown Arts and Craft Market — held every Saturday down at the waterfront. Artisans come from across the South Island to sell their handmade wares, and no imported goods are allowed. Not only will you take home something you love, but love will have undoubtedly gone into making it.
The Otago region is known for its very fine Pinot Noirs, but of course the New Zealand wine scene as a whole is pretty extraordinary. The Winery in Queenstown offers the chance to try 80+ wines from across the country, while you enjoy a cheese board from the comfort of your leather chair. Dangerous!
For sweet treats, make South American-inspired Patagonia Chocolates your shopping destination of choice. There are two locations in Queenstown, and as you would expect, this is the spot for a killer hot chocolate.
Ways to relax in Queenstown
Despite the fast and furious pace of the outdoor adventure scene, there are plenty of top things to do in Queenstown that will leave you feeling relaxed and revitalised.
For stunning views of the city, Lake Wakatipu and the Remarkables, climb on board the Skyline Queenstown gondola for the gentle journey up to Bob's Peak. Don't be put off by the queue — it moves fairly quickly.
Everything else on the Peak will raise your pulse rate rather than lower it, including the fantastic luge, bungee jumping, paragliding (soar high above the city centre) and a series of downhill-run mountain biking trails.
For a destination exquisitely rich in natural beauty, Lake Wakatipu is the headline act. There's something magical about this waterway, and there's no shortage of ways to enjoy it. The informative and very affordable Million Dollar Cruise is a top option. There are three departures a day (two in winter).
The iconic steamship TSS Earnslaw (launched the same year as the Titanic!) used to ferry supplies to communities around the lake, and now ferries the tourists. The trip out to Walter Peak High Country Farm for morning or afternoon tea is great fun. There are also lunch and dinner options. Enjoy the collection of historic photos on board.
Watch our video of this experience:
Welcome to The Big Bus tour and travel guide's YouTube channel. Queenstown on New Zealand's South Island is a destination exquisitely rich in natural beauty,…
While we're on the subject of the lake, activities are not confined to above the water. While you certainly wouldn't describe it as relaxing, Hydro Attack's 18-foot semi-submersible high-powered watercraft (that looks like a giant shark) will give you an introduction to Wakatipu that you won't soon forget.
And finally, what better way to relax and enjoy the many fine pinot noirs that hail from this neck of the woods, along with chardonnays, pinot gris, rieslings and sav blancs, than on a wine tour. You'll also get to see more of the stunning landscapes that make the region so special. Queenstown Wine Trail Tours offers a half day tour to a selection of top cellar doors, including historic Chard Farm with its mountainside vineyard, and Gibbston Valley — home to New Zealand's biggest wine cave and a mighty fine cheesery.
Watch our video of this experience:
Welcome to The Big Bus tour and travel guide's YouTube channel. Queenstown offers easy access to the Central Otago region of New Zealand's South Island, whic…
Where to stay in Queenstown
Oaks Shores
Oaks Shores offers contemporary one, two and three-bedroom apartment-style accommodation right by Lake Wakatipu. Most rooms provide stunning views of the lake, and the gas fireplaces are a really nice touch.
Fully equipped modern kitchens make self-catering a breeze, but the hotel does have an onsite restaurant and bar. There's also a complimentary shuttle service to and from town.
Heritage Queenstown
With its Alpine styling and magnificent lake views, a stay at Heritage Queenstown is an experience in itself. Enjoy the traditional chalet-style reception, bar and restaurant (with open fireplaces), and your choice from a variety of spacious room types and suites — many with full kitchen facilities.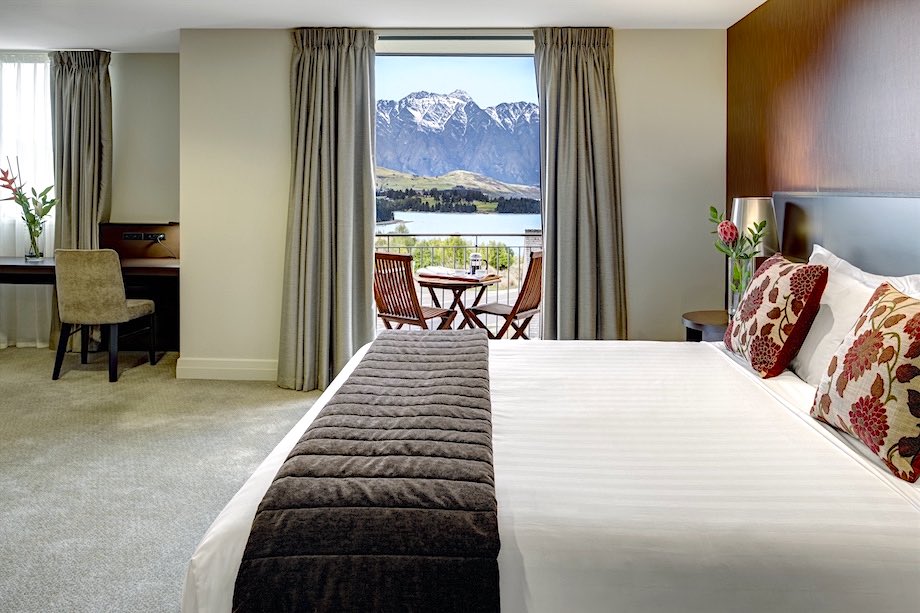 The sauna, spa and plunge pool are the perfect way to end a day of outdoor or urban adventuring.
The writer travelled as a guest of Oaks Shores and Heritage Queenstown.
Do you have any tips to add to our Queenstown travel guide? We would love to hear from you. Please leave a comment below.
Cover image: Tourism New Zealand. Additional images: Bigstock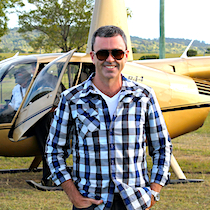 About the writer
Adam Ford is editor of Top Oz Tours and Travel Ideas, and a travel TV presenter, writer, blogger, and photographer. He has travelled extensively through Europe, Asia, North America, Africa, and the Middle East. Adam worked as a travel consultant for a number of years with Flight Centre before taking up the opportunity to travel the world himself as host of the TV series Tour the World on Network Ten. He loves to experience everything a new destination has to offer and is equally at home in a five-star Palazzo in Pisa or a home-stay in Hanoi.
keyboard_arrow_leftPrevious
Nextkeyboard_arrow_right