It may have become an important mark on the world map by compromise, but Ottawa has grown into one of Canada's most charming and dynamic cities.
Located in Eastern Canada, the nation's capital is home to many major cultural institutions, and is the place to be for Canada Day's maple-flag-waving frenzy. Ottawa also does fabulous dining and shopping thanks to an outlook that's both patriotic and international. Far from being a dreary town of pollies and diplomats, the city embraces urban life and the great outdoors with gusto.
Enjoy this Ottawa travel guide.
Ottawa for history lovers
Long home to the Indigenous Algonquin, what became Ottawa was largely ignored by everyone else until the British began to build a 200-kilometre canal here in 1826.
An extraordinary engineering achievement, the Rideau Canal is now a UNESCO World Heritage-listed site that becomes the world's largest ice-skating rink in winter, and a sightseeing cruise route from spring to autumn.
In 1857, the then little-known Bytown was Queen Victoria's surprise choice for the newly formed Province of Canada's capital. Halfway between rival cities Toronto and Montreal, it was actually a canny compromise.
The grand Gothic Revival Parliament Building was soon constructed, and remains Ottawa's most significant landmark. It's the epicentre of national Canada Day celebrations on 1 July, which include impressive military parades featuring the famous Royal Canadian Mounted Police (Mounties). The Buckingham Palace-style Changing of the Guard also brings pomp and circumstance to summer mornings, and daily guided tours inside the historic building (free, but arrive early for tickets) include amazing views from the 92-metre Peace Tower.
Top cultural experiences in Ottawa
Like the Commonwealth's other 'compromise capital', Canberra, many of Canada's major cultural institutions are located in Ottawa.
The Canadian Museum of History is the country's most visited museum and an absolute highlight is the permanent First Nations exhibition. The bold designs of Pacific coast artefacts are particularly powerful, while the new Canadian History Hall is a worthy 150th birthday gift to the nation.
There's also lots to see at the National Gallery of Canada — if you can brave the giant spider sculpture outside the entrance! Be sure to check out the paintings by the pioneering Group of Seven artists, who interpreted the Canadian landscape through striking colours and forms during the 1920s and 30s.
Other significant national institutions include the Canadian War Museum, Museum of Nature and Aviation and Space Museum, where you can take a joyride over Ottawa in an old open-cockpit biplane. The Diefenbunker Museum (Cold War Museum) takes you into a giant underground bunker that was built in the late 1950s to shelter the government in the event of a nuclear attack.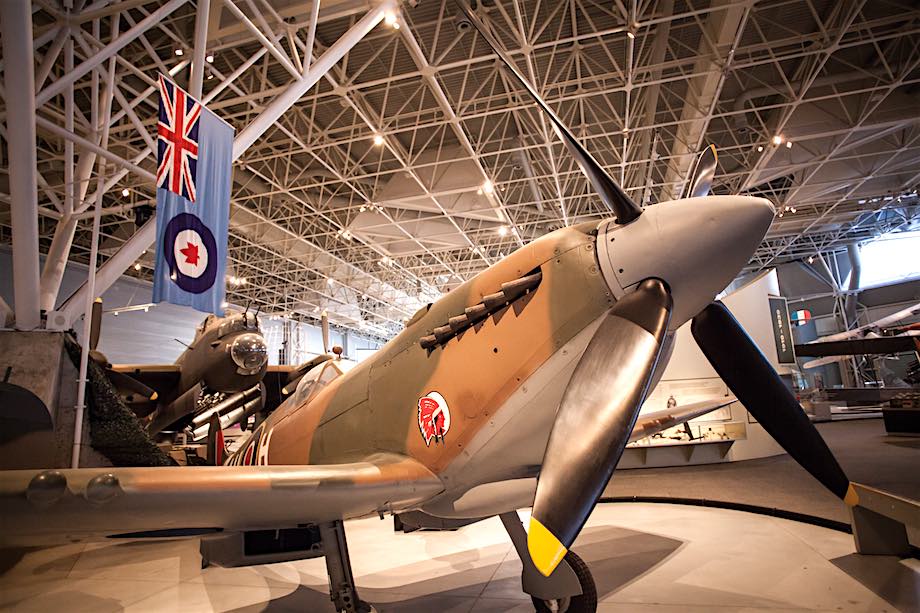 Where to shop in Ottawa
Running lengthways along the city grid, historic Sparks Street was Canada's first pedestrian Mall (created in 1967).
There's plenty to keep serious shopaholics busy here, including the opportunity to purchase Native Canadian art at The Snow Goose.
For travellers needing a retail hit in a hurry, the Rideau Centre and neighbouring ByWard Market have you covered. The four-level Rideau Centre underwent a massive transformation in 2016. International luxury marques including Tiffany and Coach are joined by much-loved Canadians such as on-trend department store Simons, apparel brand Roots, and Matt & Nat, makers of stylish vegan bags and accessories.
Historic ByWard Market is probably Ottawa's most popular attraction. Stalls offer fresh produce, treats and handmade treasures, while indoor businesses include Crazy Moose of Ottawa, a souvenir store with its own line of t-shirts celebrating the capital and Canada. Just outside the market Drake General Store offers cool gifts and souvenirs.
Great places to eat in Ottawa
Day and night, the market precinct is Ottawa's hotspot for fast food and casual dining.
Head to the BeaverTails shack for their eponymous pastries, born right here in the capital. They're big, thin, crispy donuts with sweet toppings — heaven on cold days!
If you have room for one more sweet treat, Moulin de Provence patisserie is another market favourite. For beer lovers, the Clocktower and Lowertown brewpubs make and serve first-rate craft brews and comfort food.
For fancier fare beyond the market, Atelier's plain exterior contrasts with the stunning molecular gastronomy on offer inside. Confirming that it's only getting better with age, Beckta relocated to elegant heritage digs near Parliament in 2015. At nearby Chateau Laurier, one of North America's majestic old railway hotels, take a break from sightseeing with a classic afternoon tea.
Ways to relax in Ottawa
There are plenty of things to do in Ottawa that will leave you feeling totally relaxed.
A canal or river cruise is a wonderfully laid back way to admire the city. Boats with informative guides glide along the Rideau Canal — especially picturesque during the world's largest tulip festival each May — and the Ottawa River. The river route offers fine views of Rideau Falls, Parliament, turreted Chateau Laurier and the canal's cascade of locks.
The canal is the hugely popular Winterlude festival's centrepiece. You can skate for eight kilometres, pausing for beaver tails or mulled wine at on-ice stalls, then enjoy the festival's other highlights — including ice sculptures and snow slides.
There's more winter fun at Gatineau Park, the wilderness a short drive from downtown. Snowshoeing and cross-country skiing give way to hiking, cycling and canoeing as the weather warms, plus wildlife spotting all year round.
For more inspiration, visit www.ottawatourism.ca.